This message addressed to the local agent at Franz gives some instructions for his daily work handling waybills for cars in the station and preparing switchlists and other information for trains working there.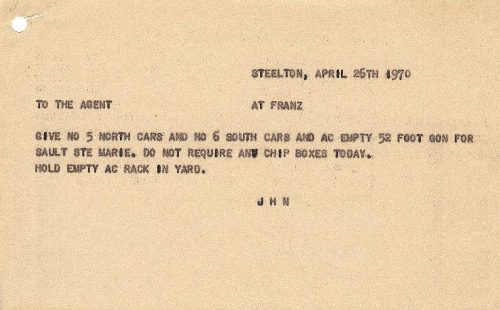 While the first two notes about making sure cars billed with "south" destinations went to southbound no. 5 and "north" cars went to northbound no. 6 are rather obvious, the rest is interesting and involves the handling of various un-billed empty cars. An empty gondola is to be sent south to Sault Ste. Marie (Steelton yard) and an empty rack (40′ pulpwood flatcar) held in the yard. The "chip boxes" referenced are likely empty Canadian Pacific 40′ boxcars held for wood chip loading at the Dubreuil Brothers sawmill ten miles to the south of Franz at Dubreuilville. Reliable sources indicate that in the 1960s and early 1970s chips were mainly loaded into standard 40′ boxcars supplied by CP. Empty cars delivered by CP for loading would be stored at Franz and Wanda, the next siding to the south until needed. As the sawmill ordered in cars for loading, the local agent would fill the orders from this pool of empty boxcars. The chips were shipped to the James River Pulp and Paper mill in Marathon on the CP line along the north shore of Lake Superior.
This traffic out of Dubreuilville apparently wound down in the mid 1970s as Dubreuil Brothers shifted to shipping most of their product by truck. In the mid 1980s this traffic came back to the railway and around 1986 there were major track changes and the installation of a new chip loader at Dubreuilville. Chip cars would again be provided by CP, this time in the form of a fleet of dedicated high-sided open top gondolas assigned to the Dubreuilville-Marathon chip service. This 1992 switchlist shows a large cut of empty gondolas for chip loading in the interchange track at Franz: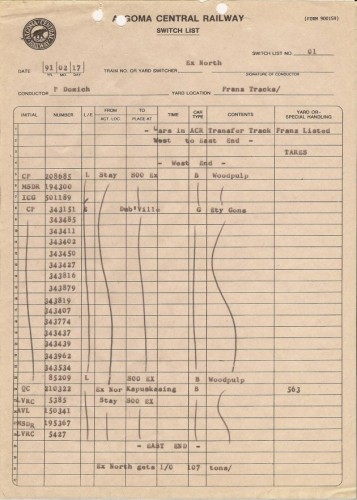 This lasted through the 1990s until the Dubreuil mill closed in 2007.