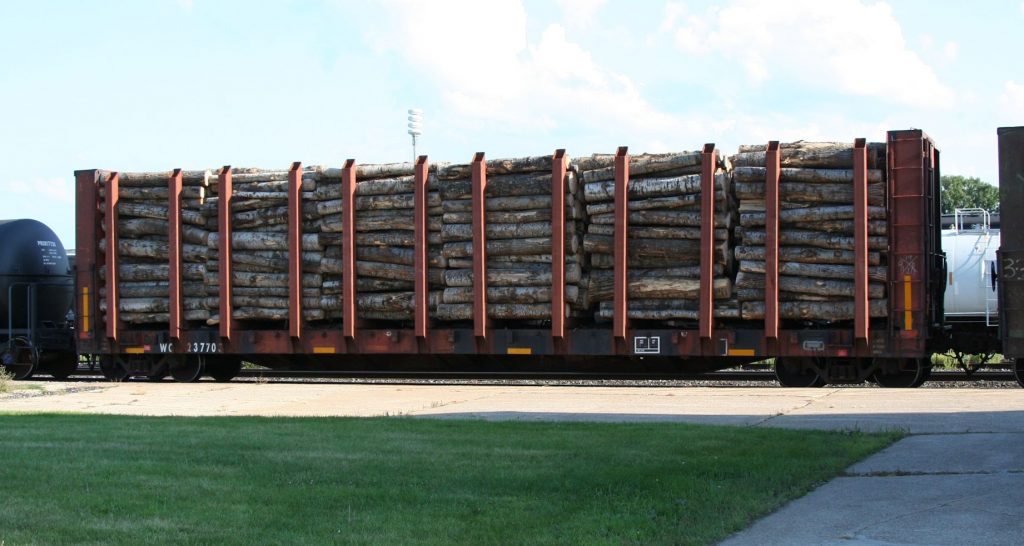 Since sprint of 2020, when CN mothballed the former Algoma Central line between Sault Ste. Marie and Hawk Junction (no freight has run south of Hawk since April 2020) loads of pulpwood in AC/WC flatcars have been a relatively common sight running through southern Ontario on Toronto to Chicago train M397. A log loading operation at Mead (former location of the old Newaygo sawmill that operated between 1974-85) is one of the only major customers on the former AC line, and with the line unused south of Hawk these loads take the long route to northern Michigan/Wisconsin via Toronto and Chicago.
It's not uncommon to actually see AC-marked pulpwood cars mixed in with the WC ones – most of the AC 238100, 238400, and 238500 series cars are still active – but this WC car in particular happened to catch my eye out of a block of nine loaded WC cars on August 2nd's CN M397 through my hometown of Sarnia.
The WC 237000-238000 series of converted pulpwood flatcars is a wild range of old flatcars from many previous CN-family (mostly DWC and BCOL, but also other former CN and WC cars) rebuilt and renumbered with very little organization to what prior groups the cars are pulled from, just renumbered into the series as they're converted.
The orange colour of WC 237703, and some of the paint patchwork underneath the most recent patches for the new WC number and the log bunks suggested a North American Car Co. (NAFX) heritage – likely via AC 2476-2494 series. Some cooperation on facebook with a couple of guys with access to the UMLER (Universal Machine Language Equipment Register) – the common electronic equipment database used by North America's railways – helped confirm that the previous identity of WC 237703 was in fact AC 2489, and its original number before being acquired by the Algoma Central (in 1994) was NAFX 53201 (from NAFX series 53200-53249).