Also in captive service on the Huron Central is this fleet of leased cars owned by Lake Superior Eastern Rail Industries, with LRIX reporting marks. Like Huron Central's own cars with HCRY reporting marks, these cars in are dedicated captive service between the pulpwood loading spur at the HCRY Sault Ste. Marie yard and the pulp mill at Espanola, Ontario, approximately 60 km west of Sudbury.
The LRIX fleet was acquired in 2008, and consists of three groups of cars.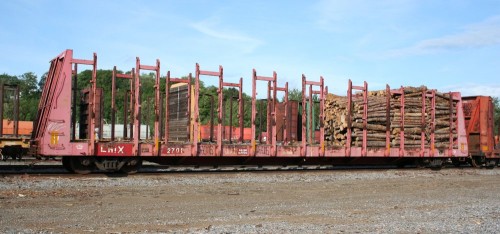 LRIX 2700-2708. These cars have a 70′ long loading space inside the bulkheads, and were formerly QGRY 2700-2708. (Before that, ?) The stencilled data on the cars indicate they were originally built in 1975.
LRIX 2709 may be a different type of car not pictured. QGRY 2709 was listed as a 60′ inside length car.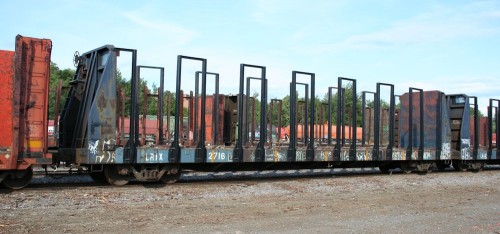 LRIX 2710-2719. These cars are just over 60′ long inside the bulkheads, and their lineage is unknown.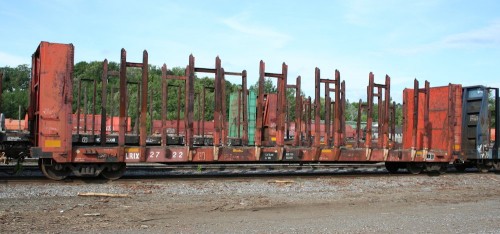 LRIX 2720-2729. These 60'10' inside length cars were originally built by Hawker-Siddeley in 1970 as part of the CP 304800-304879 series. The Walthers pulpwood flatcar is actually a dead ringer for these cars, as it was actually based on this original CP series.