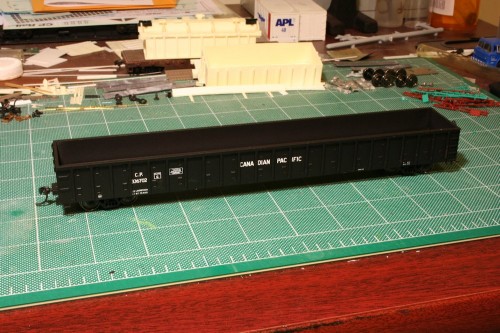 Over a few evenings the past week I got this car painted black and applied all the lettering. After languishing on the back burner for about a year, it feels good to put some attention towards finishing this project off.
The body was airbrushed black and then given a shot of GlossCote to prepare for decals. Lettering is (mostly) from a Black Cat set for 52′-65′ gondolas.
(The black sure is difficult to photograph well, particularly with the crappy lighting I have available in my apartment.)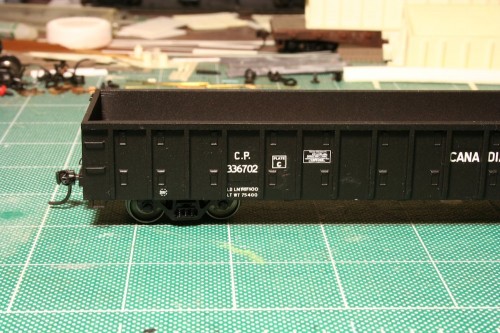 The digits of the car number are all individually applied. It would have of course been necessary to apply several numbers individually in any case to form the correct number, but also because of the narrow space between the ribs the numbers in this case had to be applied with almost zero spacing between them. The spacing of the C.P. initials was similarly reduced.
For this car I also applied the data to actually match the numbers on the prototype photo, and also a little trimming of the spacing was required for everything to actually fit. I left the capacity line off as this was no longer required and started to be painted over on many cars in the early 1980s and I hand painted a bead of black over where this would have been lettered.
The NSC builder's logo and dimensional clearance Plate C stencil came from a Highball Graphics CP Rail flatcar set, and the nailable steel floor data stencil (rectangular data block to the right of the panel with the Plate C stencil) was included in the Black Cat set.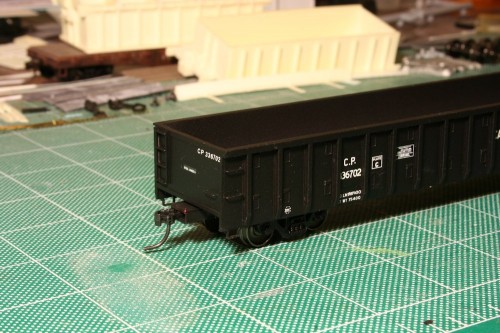 Interestingly, in the prototype photo of 336702 that I have, the end reporting marks are in the modern italicized CP Rail font, which would not have been in use in 1965 when the car was built. This was probably re-applied at some point due to weathering of the original lettering on be end. I chose to reproduce this detail and used the small end reporting marks/numbers from a Highball Graphics CP Rail gondola set.
Now this car is almost ready for some basic weathering to complete its in-service appearance.