I've had this old kit kicking around on a shelf somewhere probably for well over 10 years now!
This is a resin kit that was offered by Walthers. I don't think it's currently available anymore. I finally decided to actually glue some of the pieces together, and gave the whole frame of the thing a shot of black in the spray booth. It's not a super-detailed model, but it's building up into something that will look right at home near one of the sawmills on my future layout. (I'll just have to give it a load of logs and place it closer to the rear of the scene so you can't see that some of the wheels are a little cock-eyed on the axles.)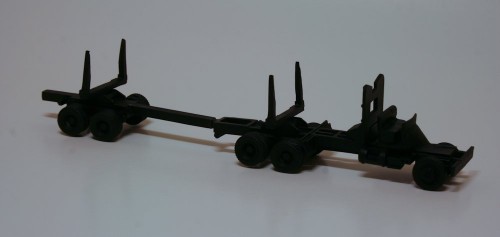 The truck cab piece has obviously not yet been mounted; I'll need to paint that another colour yet before assembling the model.