With the upcoming SD40-2 from Bowser and snow plow and caboose from TrueLine Trains, as well as other recent offerings from Atlas and Walthers with the ACR name, I thought it would be interesting to take a little review of the various models that have been run for the ACR, and just how much has been available at least at one time or another. The casual to moderately-serious modeler can actually put together a surprisingly fleshed out and reasonably accurate mix of equipment, particularly targeting an early 1990s era, with just off the shelf ready-to-run models. This posting explores what can be done to build a core fleet with such RTR equipment, although obviously there is always still room for a fair bit of refinement for the modeler that enjoys a bit of kitbashing, modification and/or repainting to add the more unique and unusual items to the roster.
Obviously this post will only deal with rolling equipment; structure and location modelling is always a whole other sort of ball game as structures are basically always entirely unique. Also, the general thrust of this post focuses only on RTR equipment; kits and other models that can be converted will be largely ignored in this particular post. Perhaps separately in different posts under their own topics…
Some caveats: due to the limited-run nature of many product offerings of the last decade or two, some of the models mentioned may not be currently available, but might be found in old stock or on eBay or other secondhand markets.
Locomotives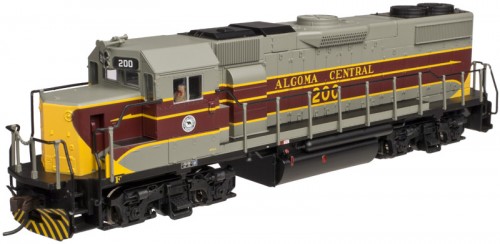 On the locomotive side, there's been several models offered for the ACR, and it actually almost covered the entire variety of models that were rostered. In addition to the Bowser GMDD SD40-2 models that are still upcoming, and will have all the correct road-specific detailing for the ACR, Atlas recently had their GP38-2 (pictured above) in AC colours, although this is just a standard US model with generic detailing. Likewise for the Kato SD40 which was offered in AC colors about 15 years back. The modeler can of course choose to accept this, or attempt to update the details and touch up the paint and lettering. Canadian Hobbycraft also once commissioned a custom run in AC colours for the Life-Like Proto2000 GP38-2 several years ago.
Life-Like (later Walthers) also offered the GP7, SW8 (below) and even the late "phase III" GP9 in the Proto2000 line in AC colours as well, and any detail differences between the model and prototype are far more subtle here, so these are actually reasonably accurate.
Rapido and Intermountain have also both offered FP9s in the later ACR passenger colours, with the Rapido units being the far more detailed and accurate of the two, although it should be noted that these were only acquired in 1995 after Wisconsin Central took over.
Speaking of which, if one is modeling a post-takeover ACR, at that point AC and parent WC power began to mix system wide, so anything from the WC roster could show up. And even pre-takeover, the ACR was at one point around 1992-93 leasing a trio of WC SD45s (one still in BN colours with WC patch) and at least one CP GP38AC, so one can justify a little extra colour in the motive power fleet. Another documented case of leased power on the ACR is a pair of Canadian National F9B units that were rented in 1987 to ease a power crunch when traffic picked up and most of the SD40-2 fleet was on contract to CP.
Freight Equipment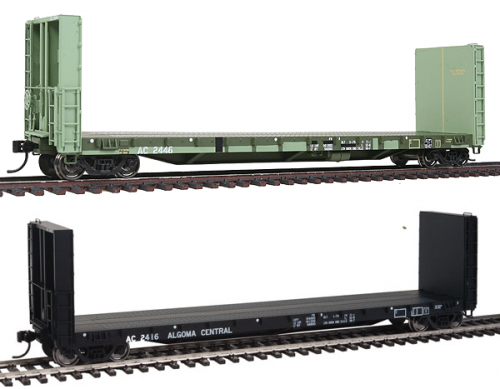 It's actually kind of impressive how much has really been offered for this railway on the rolling stock front as well.
Walthers has offered their 52′ bulkhead flatcar in two versions of Algoma Central colours: black with full AC lettering (new cars acquired in 1975) and patched-out ex-BCIT (secondhand cars acquired in 1980). Over several additional runs they've offered a total of about half a dozen numbers in each scheme. Walthers has also done some runs of cars in orange North American Car Co. schemes; some ex-CN/ex-NAFX cars were acquired in the early 1990s in this scheme and could be converted to accurate AC cars with just a bit of paint and decal work to patch out the original numbers.
CN versions of this car would also be commonly seen on the ACR carrying lumber and steel to and from the CN interchanges at Oba and Hearst. CP flatcars are a little more problematic as no one has ever made an accurate version of anything CP owned, but there are always the the old stand-ins.

And of course, you can't mention Walthers without discussing their model of the Ortner rapid-discharge hopper, of which the ACR had 300 cars built to this design by NSC under licence. This model has been re-run several times with various AC numbers, and has also been run at times in Wisconsin Central patch-out and repaint schemes for the post-1995 modeler. There was also a limited run a number of years back by True Line Trains of a standard triple hopper in Ontario Northland colours with AC patch-out reporting marks, representing a group of cars acquired in the late 1970s. These models aren't quite accurate to the real cars, but may serve as a reasonable stand in round out the fleet.
Walthers has also recently offered their 65′ gondola in Algoma Central colours, although this is only the vaguest stand-in for the 61′ bulkhead end gondolas, and not very accurate.

Rapido Trains has produced multiple numbers of their 52′ gondola in Algoma Central colours, and CN and CP versions would also be quite common on the ACR shipping steel products from Algoma Steel. With two separate runs so far, a dozen unique numbers have been offered.
There was also an old run of the Life-Life Proto2000 52′ gondolas (I think comissioned by Canadian Hobbycraft) before they were taken over by Walthers, although the rib spacing and side profile of the Rapido car is more accurate for the Canadian prototypes.

While the Algoma Central directly served a large paper mill in Sault Ste. Marie, the AC did not roster any boxcars for paper service; instead, cars for paper loading were provided by the connecting railroads. As a large percentage of the mill's output was exported to the US, a majority of the cars would be from SOO Line and later Wisconsin Central (after 1986).
Fox Valley Models has a model of a typical SOO Line 50′ boxcar that would have been commonly used in paper service, and large numbers of these also ended up on the WC. Walthers has also produced a more modern 50′ "high-cube" boxcar based on a Gunderson prototype for paper service. This has been at times available in various WC and CN paint schemes. Walthers also has the older (late 1960s) National Steel Car newsprint car that was formerly made by Life-Like in the Proto1000 line that is good for various CN and CP cars, and more recently Atlas has also produced a late 1970s version of an exterior post NSC boxcar that was also mainly assigned to paper service, available in CP, CN and Ontario Northland versions. Any of these could also been seen carrying paper on or over the ACR.

The obvious gaps that are still missing would include the woodchip gondolas (although these basically disappeared in the mid 1980s when Newaygo shut down the mill at Mead but were shortly replaced on the ACR by CP woodchip cars in service to Dubreuilville) and the proper 61′ bulkhead gondolas and round side ore hoppers, both unique cars to the ACR and not likely to ever be commercial models.
Additional notes: you might find a read through of my Operations series from last year as well as the many ongoing posts in the Freight Car Friday series interesting or helpful in terms of ideas of the types of other freight cars that might have been operating over the ACR past and present.
Cabooses

On the caboose front, accurate versions of the ACR's CN-built cabooses were offered a few years ago in brass from Overland Models (pictured above) and a new plastic model of the same is due out later this year from True Line Trains.
Rapido Trains also several years ago offered their CP Angus van in AC colours, representing the vans acquired secondhand from CP in 1992.
If you're doing web searches for ACR caboose models, you're also likely to come across an Atlas Trainman offering in AC colours, but this is a northeastern US prototype that bears really no resemblance to anything that operated anywhere in Canada.
Passenger Equipment

In 1992 the ACR began to receive the first of several ex-VIA coaches that would replace their existing fleet of ex-CP cars that had been acquired back in 1969-74. With the new cars a new passenger paint scheme was introduced.
Rapido Trains has produced their CN/VIA coach, baggage car and steam generator car (which are all accurate for these ex-VIA cars acquired between 1992-1996) in the "new" 1990s passenger colours, as well as the matching FP9 locomotives (although these units were only acquired in 1995 after the WC takeover).
Note that as these cars were being added to the roster still in the early nineties, if you were modelling around 1992-1993 you could quite accurately use a number of coaches in service still in VIA colours mixed in. There's lots of pictures and video from these years showing that.
Wrap Up
So you can see that there is quite a bit out there that can put together a pretty reasonable fleet, and with the passenger equipment from Rapido, and some of the anciliary models available for connecting railways like CN and WC, targeting the first half of the 1990s just before the WC takeover can actually be done fairly reasonably with mainly ready-to-run models, allowing a modeler with either a lack of interest or confidence in their skills in major kitbashing or detailing projects to build something without a lot of that sort of effort, or to simply direct that effort towards the more unique stuff. RTR is great for that – building a large fleet of the common stuff and still allowing kitbashing effort being put towards creating the really interesting stuff. You'll find a fair bit of the RTR models mentioned above and more on my own layout when it eventually comes together.
For the modeler interesting in working on their own projects, there are also a number of different decal and lettering sets available from producers such as Black Cat, Highball and Precision Design Co. I maintain a list of all the ones I know about here for reference.
So that concludes my review for now; I hope you find it interesting. Let me know in comments and discussion if there's anything I might have skipped over or missed, or if you have other suggestions or questions about other models that would be appropriate to be included.