An innovation in the 1970s was the design and development of the centre-divided bulkhead flatcar for the shipping of lumber. Designed with a central truss structure that both strengthened the car and supported the load without the need for additional stabilization in the load and equipped with built in ratchets and tie down cables to eliminate a lot of strapping and with or without deck risers for the first row of packaged lumber bundles. This made it much easier to load packaged and bundled lumber as bundles no longer needed to be staggered in order to create a solid and secure load and a lot of waste generated in the form of strapping and blocking material is prevented.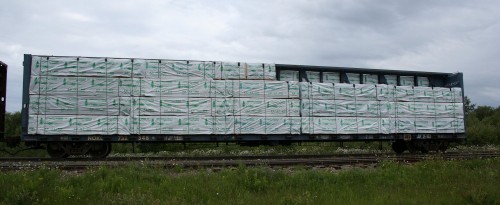 NOKL 732348 was photographed on July 16, 2015 at Hearst (Wyborn siding) with a load of lumber from Lecours Lumber in Calstock, Ontario. Leased flatcars with the reporting marks of shortline Northwestern Oklahoma Railroad (actually a mark used by cars leased to various railways by First Union) are among the most commonly seen in this service, and these blue painted cars in the series NOKL 732300-732349 and 733050-733099 (built by National Steel Car in 2000 and 1998 respectively) are specifically leased to Ontario Northland. Brown painted NOKL 734500-734599 – built by NSC in 2004 – also seems to be a series exclusively seen in ONR service in addition to Ontario Northland's own ONT 4100-4149 series, built by NSC in 1997.
| Series | Builder | Date |
| --- | --- | --- |
| ONT 4100-4149 | NSC | 1997 |
| NOKL 732300-732349 | NSC | 2000 |
| NOKL 733050-733099 | NSC | 1998 |
| NOKL 734500-734599 | NSC | 2004 |
Additionally, CN provides some cars for loading in the area, in various family reporting marks (CN, IC, WC, BCOL, etc.) and a few other NOKL groups.