So in a follow-up comment on one of my previous posts, I mentioned that the ExactRail CP 65′ gondolas are modeled after a series of cars built in 1979 by Hawker-Siddeley, and to which an identical series of cars was built in 1982 by Marine Industries. The ExactRail models all bear numbers drawn from the 1979 HST series, but have Marine Industries builders logos and 1982 NEW dates. (Naturally.) This is a little annoying, but fixable.
The various CP series that may be represented by the ExactRail model (with varying amounts of work) are:
| Series | Builder | Date | Notes |
| --- | --- | --- | --- |
| CP 336700-336799 | NSC | 10-11/1965 | Flat ends, high brake rigging |
| CP 337185-337299 | HST | 11-12/1979 | Ribbed end, low brake rigging |
| CP 337300-337449 | ? | 6-7/1969 | Flat end, high brake rigging |
| CP 337450-337549 | MIL | 4-5/1982 | Ribbed end, low brake rigging |
You can follow my efforts to model a car from the 1965 336700-336799 series in this other series of posts.
I've been endeavoring to correct some of the other ExactRail cars I have, removing the Marine Industries logo and adding in the Hawker-Siddeley logo. The old lettering can be removed by VERY carefully scraping with a curved scalpel blade. Done very lightly and carefully, this can remove the printed lettering without damaging the paint underneath. Another method I've used to successfully remove lettering is to rub it with a Micro-Sol soaked Q-tip.
The Hawker-Siddeley logos came from a Microscale data set of various freight car builder logos (set # MC-4309).
The original Marine Industries logo is at left in the below photo, and the Hawker-Siddeley logo and placement is illustrated on the car to the right.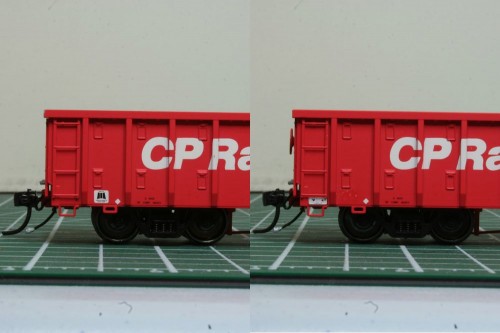 I haven't addressed changing the new date by the weight data lettering below the car number yet; I probably will, but that will involve piecing some things together from some proper CP data lettering (which I will need to make sure I have).
To maintain a little bit of variety, I also wanted to leave one car as representing the later Marine Industries, which would allow keeping the existing MIL logos and build date data, but require renumbering the car into the new series. The snag here of course is that the numbers on these gondolas are a bit smaller than the standard numbers on other cars, so the reporting marks and numbers from standard CP Rail lettering sets don't fit here. Naturally I fully realized this after I removed the car number from the car. (D'oh.) Hopefully I'll be able to turn up some appropriate letters to redo the car number on that car so I can have a car from the MIL series. If not, I suppose I'll have to rebuild it into second black NSC car from the 1965 336700-336799 series…
_______________________
Last week I stripped up to 20 of my Walther hoppers in preparation for detailing. I'm currently working on the interiors of these cars, puttying the slots and holes where the bulkhead pieces used to go and preparing for the interior bracing remodeling. This brings the total number of these cars currently in production to 27, and that's less than half of what I have stockpiled. I'm hoping to bring this batch of about 2 dozen up to about the same point and then proceed with the next steps as I figure them out in assembly-line fashion. So it might be a little bit while I catch up, and then hopefully you'll see new posts on that topic.