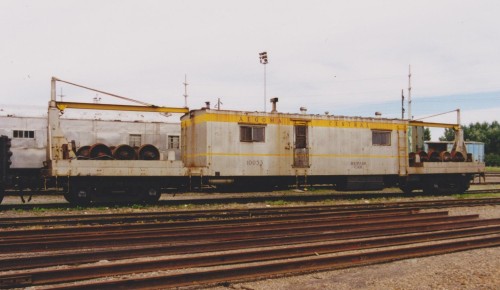 This unique looking car is outfitted as the south end road repair car. Due to the remoteness of the railway, if a car had to be set off in a siding somewhere due to a defect, this car would be sent in to help rescue it and effect any basic running repairs. Equipped with storage for some extra wheelsets and a light crane boom at each end and tool supply storage and a small bunk in the central structure, this car would provide the means necessary to perform the basic repairs in order to get the stricken car moving again.
Built on the underframe of one of the older retired ex-D&RGW heavyweight coaches, AC 10053 was the repair car assigned to the south end of the railway. A smaller sister car, built on a 40′ flatcar body and numbered AC 10052, served as the north end repair car.
In the 1970s this car was painted in maroon and grey colours matching the railway's passenger cars, with a large version of the road's black bear logo on the side. A rather attractive scheme when fresh, late 1970s photos show it to be getting rather rusty at that point and in 1980 it was repainted into this simplified silver and yellow scheme, which was also used on at least two other bunk cars rebuilt from ex-GM&O coaches.
Most similar repairs today would likely be done using a large hi-rail truck.
Photo by Blair Smith at Steelton Yard, August 1996.