So this project has been on the shelf for a long time. A very long time. I last wrote about this here in September 2013, and even that was to recount work that I had done before I actually started this blog. So far, I've posted about scratchbuilding the new doors, and briefly about plating some of the existing windows and vents (the easiest possible part of the job). Some of the work of cutting out the new opening had been started, but never fully cleaned up.
So recently I've pulled this out and started to finish that off.
The original troop sleeper configuration has a narrow personnel door in the centre, with single windows on either side. The new baggage door takes up part of this space. So the new opening needs to be marked and cut out, but also parts of the original openings need to be completely filled in. This involves filling in the windows with sheet styrene and removing all of the detail around them, as well as some of the same for the very top of the original door, which was slightly higher than the new sliding door. I used some styrene strip along the inside of the new opening to frame it up and unify the edges where the old window openings were, although this also helped correct some sloppiness in my original cut.
Then body putty was used on all the seams and areas around the door and window fill areas to fill and smooth things out, and everything sanded smooth. A bit of a rounded bevel was also filed into the door posts, although the top edge was left as square as possible.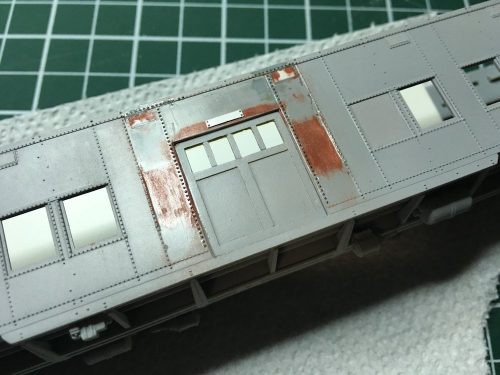 The new rivet strips along the door posts were added using Micro-Mark 3D rivet decals. The small plate above the door was added using an .060″ wide strip of .005″ styrene with more Micro-Mark decals for the corner rivets. (In older photos this plate seems to have mounted some sort of hook/hanger above the door, probably to assist in hauling up express cargo. It appears though that this hook was removed by 1980s era photos of the car I'm modelling, so I don't have to try to bend wire into such a small feature. Phew.)
This is really getting this car starting to look like something now, and is pretty much down to a few coats of paint for the next step…