Another old message form from April 26, 1970, given to the crew of southbound Hearst-Hawk Junction train no. 6.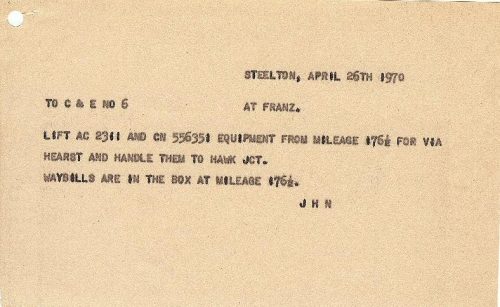 No. 6 is directed to lift a pair of cars, an AC 40′ flatcar and a CN 50′ boxcar from a spur at Mile 176.5, about a mile south of Goudreau. Both cars are apparently to be routed to Hearst, but as the spur is south-facing, the southbound train will lift the outbound cars and bring them to Hawk Junction where they will connect with the next day's northbound train to Hearst.
A fall 1969 timetable in my collection shows a spur here owned by Superior Acid & Iron, Ltd. Not much detail is known specifically about this particular company; through some correspondence with Dale Wilson and access to some of his sources, it appears to have been a new company started in 1969 with plans to rework an existing iron pyrites deposit near Goudreau. Pyrites had been mined in this area off and on over the years, with the earliest operations around the 1920s by companies like Madoc Mining and Nichols Chemicals, and while it's not quite clear if any of these are the same or multiple deposits, it had most recently previously been worked by R.F. Fry & Associates under contract to Algoma Steel/Algoma Ore Properties from 1958 to 1963 shipping iron pyrite ores to Wawa for processing. In 1969 Superior Acid & Iron was started with plans to process iron pyrites and sell acid (a process caled "heap leaching" of pyrites (iron sulphides) was a common production method of sulphuric acid) into the US. Ultimately it doesn't appear to have been very successful and all records of this company disappear around 1976.