This message form addressed to the crew of train No. 5 (Hawk Junction to Hearst freight) on April 10, 1970 instructs the northbound train to lift AC 3174 (a 40′ wooden boxcar) from the Newaygo Forest Products camp at Mosher to bring to Hearst.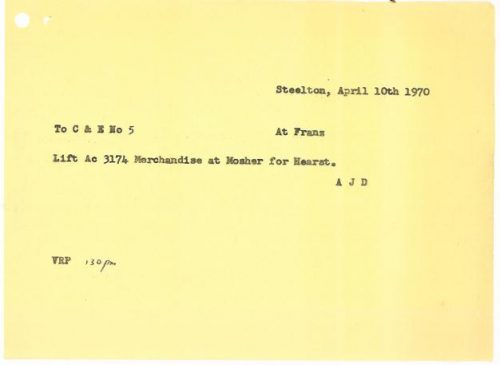 Mosher was a sizeable logging camp operated by Newaygo Forest Products but very remote, with no road access other than rough logging roads so many supplies were brought in and out by rail via the Algoma Central Express department.
The below 1973 photo courtesy of Ted Ellis shows the main common buildings at Newaygo's Mosher operation with a similar 40′ wood boxcar again spotted near the main buildings. Loaded pulpwood gondolas fill up the rest of the shed track. Partially visible in the background behind the buildings are the actual "Mosher South" loading spurs.