While I was mostly busy with other things over the Christmas and New Year's period, I've been managing to poke away at a couple of projects and have managed to complete another milestone on my Franz section house project, and now I have my first actual project posting of 2015.
The house is now painted, and has shingles applied.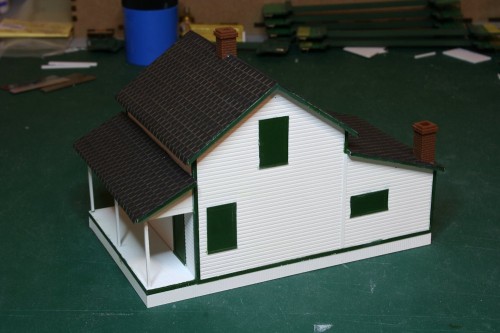 The house was airbrushed white and the trim carefully masked and painted Southern Sylvan Green. I had a setback at this point that rather threatened to ruin the entire project – on one side I sprayed a little too heavily with the green and it leaked and spread under the masking. After venting some frustration ("Model Railroading is Fun"?? – MR's old tagline) including some choice words that would have disappointed my mother, I tried to recover the project by scraping away some of the green paint, and repainting the side again with white to touch it up and once again masking off the trim and windows and then touching up the green.
I think I managed to not botch it too much the second time around. Phew.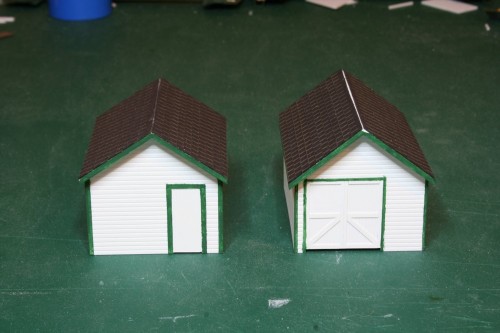 The shingles are a heavy paper product from Rusty Stumps. They are pre-cut for a standard 3-tab shingle pattern and can be ordered with or without an adhesive backing. (Rusty Stumps has several different variations of shingle types available, and different colours are also available. Their dark green will likely come in handy when I build Hawk Junction station…)
You can see above that I have also been working on finishing off the assorted tool and speeder sheds with shingle roofing material as well (I actually completed a few of these over the Christmas season, and applied the last shingles to the section house tonight). Some of these small structures are known to have tarpaper/roll roofing but I've managed to source some photos here and there and some of the specific locations I'm intending these for (Franz, Mosher) had shingle roofing on these sheds. Even some of the different section houses had varying roofing and siding treatments, with some of them also having tar paper roofing as well. Franz however, is well documented as having normal black asphalt shingles.
All of the model structures just need a ridge cap applied yet to complete the roofing treatment.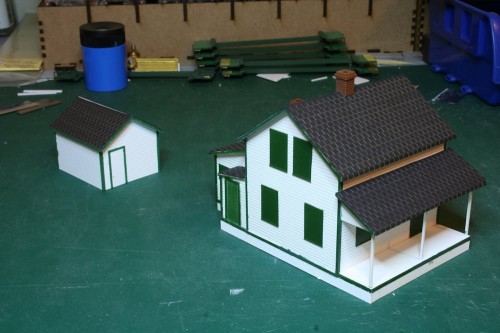 Here we see what the Franz section house would look like in context with its storage shed, although you kind of have to imagine a forest around and behind it, a nearby outhouse, and chances are when I actually build Franz, you'll end up looking at the back of the house from the aisle.
It's taken a while, and had it's bumps along the way, but I'm happy that these structures are really starting to look a bit more like the real ones they represent.