While today's Freight Car Friday subject isn't an AC car, nor taken anywhere near the ACR, it is definitely related.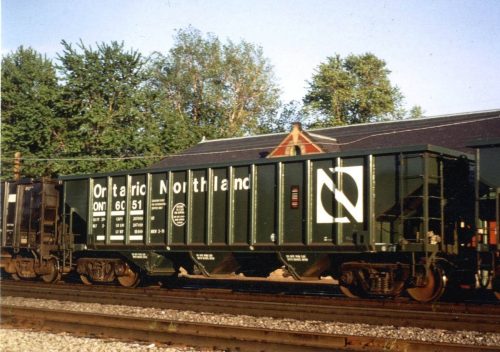 This shot courtesy of an antique show find by Keith MacCauley shows an almost brand-new Ontario Northland triple hopper # 6051. 72 of these cars numbered ONT 6000-6071 were built by National Steel Car in 1971 for use carrying iron ore from Adams Mine near Dane, ON to steel mills in Pennsylvania. Canadian National, Ontario Northland, and New York Central/Penn Central provided cars into a pool for this service, with many of the PC's portion coming from the Toronto, Hamilton & Buffalo and Canada Southern Railways (although that's clearly an actual PC car coupled at left in this photo). Given the freshness of the ONT car, the date is almost certainly summer 1971. We haven't identified the location, but it's likely somewhere in the States.
In the late 1970s this service ended, and these cars were disposed of by the Ontario Northland, with the Algoma Central picking up thirty of these cars in 1978. They would run for several years in original numbers with just the reporting marks patched out, and then in the mid 1980s these cars were renumbered from their 6000 series numbers to the 8600-8629 series.