So early in the new year I heard of this new book on the ACR that has come out, self-published by one Byron Babbish, that I had not heard of before. This week, a copy that I ordered came in.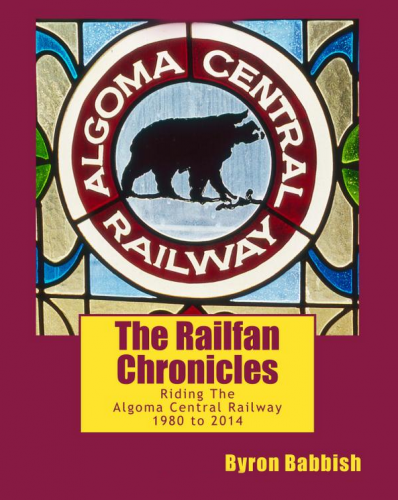 Having ordered sight unseen, and not familiar with the author's other works, I wasn't sure what I was going to get. Having had the chance to turn through the pages this week, the book is a nice paperback in an 8×10 page size with a little over 200 pages of mostly colour photos. As suggested by the title, rather than being written and organized as a history book, or a overview/reference book along the lines of many of the titles from Morning Sun Books for example, the book is filled with photos from 10 trips the author made on the railway over a nearly 35 year period, with chapters organized simply around each individual trip, allowing the narrative to simply capture the experience of the railway. (The second chapter contains a particularly amusing story about a high-speed journey to the Sault and barely catching the train as it was pulling out of the station after sleeping a little late in the morning.)
Many of the trips are journeys on the Agawa Canyon Tour train, with additional rides on the winter Snow Train and a few experiences on the local train, including one trip in the business car Agawa.
As all of the photos are from the perspective of a passenger, you won't find much in the way of rosters or reference shots of specific equipment and structures (although there are some), but the book does do a nice job of showing the experience of riding the line, both to the popular Agawa Canyon park and the laid-back bush country service to camps and cottages of the local train, and the multiple visits over the years show quite nicely the gradual changes from the "classic" ACR of 1980 through the WC and CN takeovers in the 1990s and 2000s to the modern tour train of today.
You can find this book listed on Amazon or the author's personal site.