Today I received my copy of one of the latest in Morning Sun Books' "In Color" series: "Algoma Central In Color". I've been looking forward to seeing this one since I saw it announced late last fall, and overall I have to say that I was happily not disappointed.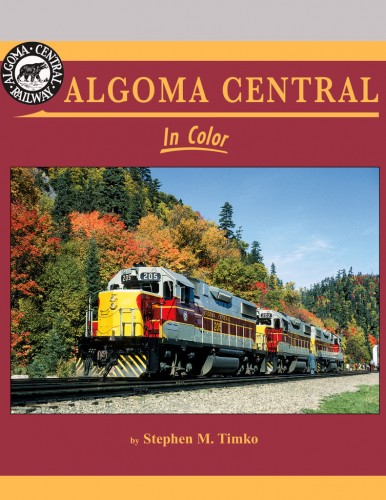 The book follows the typical format of Morning Sun's "In Color" series, organized into chapters on specific topics but largely made up of photo selections (in 100% colour images) with explanatory captions rather than large passages of text.
This book is broken into chapters focusing on various aspects, with sections specifically covering diesel locomotives, passenger equipment (with steam generator cars getting their own feature), freight and non-revenue equipment, and a section on all three of the road's subdivisions (with reproductions of timetable pages to put into context). While all the sections had good material, the section on the Michipicoten branch had some nice shots at the sinter plant and the harbour, and I found the freight car section to have a good selection as well.
I did notice one or two minor errors in the caption information in places (and at least one memorable spell-check/autocorrect fail referring to the "Agway Canyon Tour Train" – the software certainly wasn't on the editor's side that day), but overall this was nicely laid out and organized, and there were some really good photos in there.
These hard-cover books aren't inexpensive, especially with the current Canadian dollar exchange rate, but this book is well worth an addition to your library if you're at all remotely interested in the Algoma Central.
Thumbs up.