So a couple months back, I showed the first few completed blocks representing wrapped lumber bundles for Newaygo Forest Products which operated a sawmill at Mead from roughly 1974-1985. Well over the last two months, that small pile of about half a dozen blocks has turned in to a much larger pile of blocks in four different lengths, and I've been able to start building the first few loads.
This is the first full-size load completed and I probably have enough material for at least 8 to 10 more.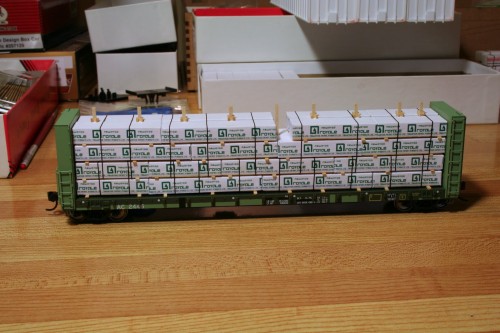 The blocks are glued together into a solid mass with scale stripwood spacers between the blocks, paying close attention to how the blocks align and staggering different lengths to represent how the load would be secured as a cohesive unit. In the model world, the load is all glued together, but in the real world it's all held together with strapping. (Spend some time studying older photos of lumber loads on standard (not the modern centre-partition lumber cars which are loaded a little differently) flatcars to see how the bundles are secured together.) The strapping on the model is represented with 1/64″ wide Chartpak graphics tape, which actually roughly scales out to about 1.5″ wide, not too oversize.
It's taken a LOT of work to get to this point (researching, creating the graphics on the computer when I'm not an expert at graphics design and drawing programs, cutting all the blocks (actually that part just took an hour or two), **sanding** all the blocks (and this week's Blu-ray movie selection(s) are…), gluing the paper wrappers on all the blocks, cutting the stripwood spacers for the load, finally building the load, and applying the strapping details) but the end result totally kicks the pants off some generic block of plastic or resin, the graphics actually match the particular prototype mill that the railroad served, and each load can be a little varied and completely unique from each other. This load ended up with a slight gap in the top row. I plan to have others with the small gaps at the ends, hopefully a few that are actually solid, and at least one with only a half row on the top.
I've also made four of these little loads for the 40′ cars based on a pair of late 1970s photos.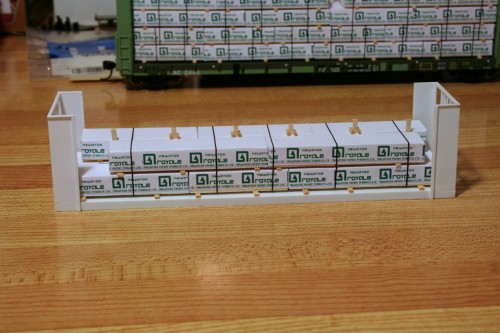 These cars were non-interchange though at this point, so presumably anything being shipped on these would have to be transloaded in the Sault. These small cars also have about a third of the capacity of the larger, more modern 52′ bulkheads so they probably won't get used regularly, but might be thrown in occasionally for some variation. The rest of the loads I build will all be for the larger cars that will typically be used.