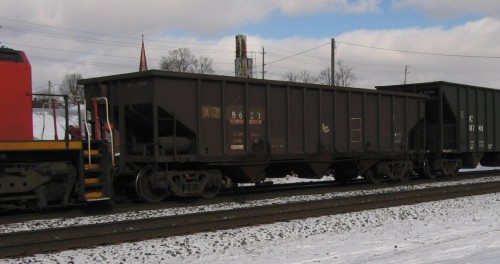 AC 8623, mixed in with other CN and IC family hopper cars in a CN freight through Ingersoll, Ontario on January 15, 2005. Photo courtesy David Graham.
This car is one of 30 triple hoppers acquired in 1978 from the Ontario Northland railway, from series ONT 6000-6070 built by National Steel Car in 1971. These cars carried their original Ontario Northland numbers with AC reporting marks for a few years before being renumbered into the AC 8600-8629 series in or shortly before 1984. (AC 6003, 6006, 6042, 6054, 6056 have been photographically verified.)
When new, these cars were painted in Ontario Northland's 1960s-70s dark green "Progressive" scheme with the circle-inside-square logo of a stylized N superimposed over an O. Weathering and grime turned them into a somewhat visually indeterminate colour.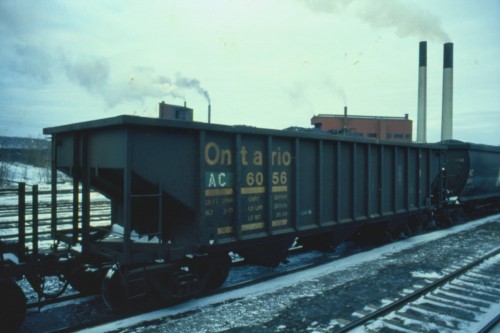 AC 6056 (ex-ONT 6056) in March 1981, prior to renumbering into the 8600-8629 series. Photographer unknown, my collection.