Over the past week or so I've been continuing to work away at my flatcar project, and I've built basic bodies for the four cars and completed the assembly of the ends, and now I have four assembled flatcars that are starting to look like an impression of the real thing.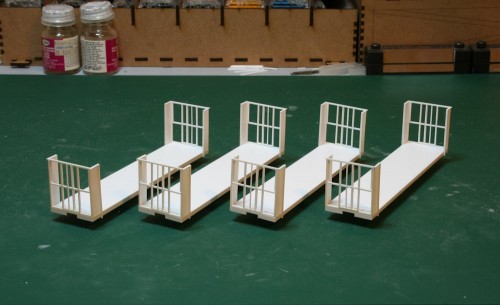 The bodies are scratch-built from .040″ thick sheet and strip. You can see in the photo below the various parts ready for assembly: the simple flat body, a basic fishbelly underframe, and the truck bolsters are Tichy parts. The side and end sills are .040″x.125″ strip, while everything else is cut from .040″ thick sheet material.
Some weight will still need to be added to the cars along with some basic underframe detailing.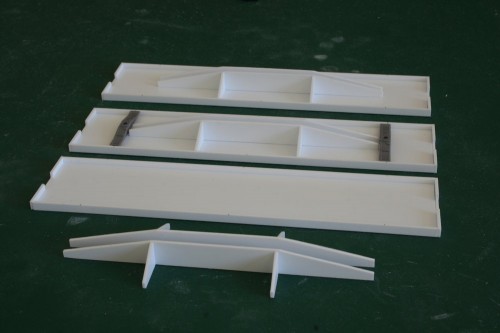 With four bodies built, the ends could be assembled and attached to the cars. With the framing for the ends previously completed, the side wings were added using .010″ thick sheet material with an .040″x.040″ reinforcing post and a .010″x.040″ top flange across the top of the side to finish everything off.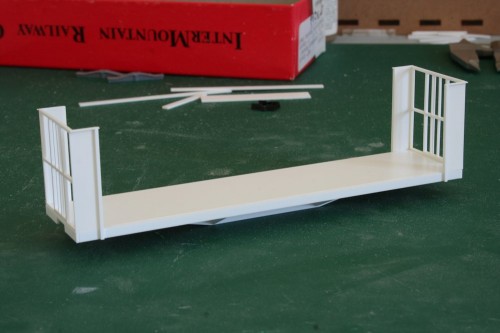 Above you can see the end details on a single car; each of the four are identical.
With the basic assembly complete, these models are really starting to look like something, but there's still a lot of work to do with the fine detailing of the car. The car still needs ladders and grab irons, brake wheel and associated end details, basic underframe brake system details, side stake pockets and decking, not to mention trucks and couplers or paint and lettering.