Today's "Freight Car Friday" post is linked to a scan I received of an empty car waybill for the movement of an empty Canadian Pacific boxcar. The waybill shown below is for the movement of empty boxcar CPAA 208554 from Canadian Pacific's Sault Ste. Marie yard to the CP yard at Schreiber, ON, via the Algoma Central from Sault Ste. Marie to Franz.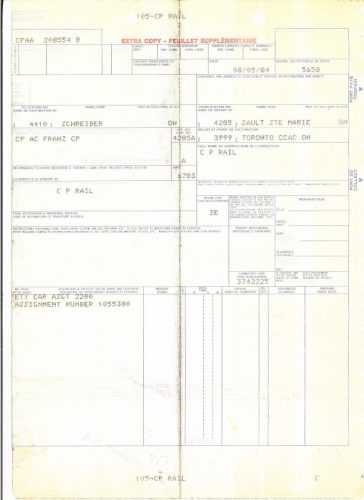 Note a few interesting things about the waybill: there's no actual shipper or consignee other than CP Rail itself. The notes at the bottom where the load/commodity information would be for an actual loaded shipment indicates a particular assignment number.
Presumably, based on its destination, this car is most likely a car assigned to woodpulp loading (which I've written about before) and was returned empty from SOO Line to CP Rail at Sault Ste. Marie, and there it received this billing for movement up to Schreiber where it will be reassigned for loading at one of the pulp/paper mills at Red Rock, Marathon, or Terrace Bay.
The car referenced on the waybill, CPAA 208554, is one of a grouping of cars built by Berwick Forge & Fabricating for the Maryland & Pennsylvania Railroad (MPA) and acquired secondhand by CP Rail in the early 1980s. Later in the late 1980s-early 1990s many of these CPAA cars were renumbered CP by removing the "AA" from the reporting marks. I caught CP (ex-CPAA) 208558, part of the same group and just four numbers away from the car on the waybill, at CP Guelph Junction (Cambellville, ON) in February 2004: