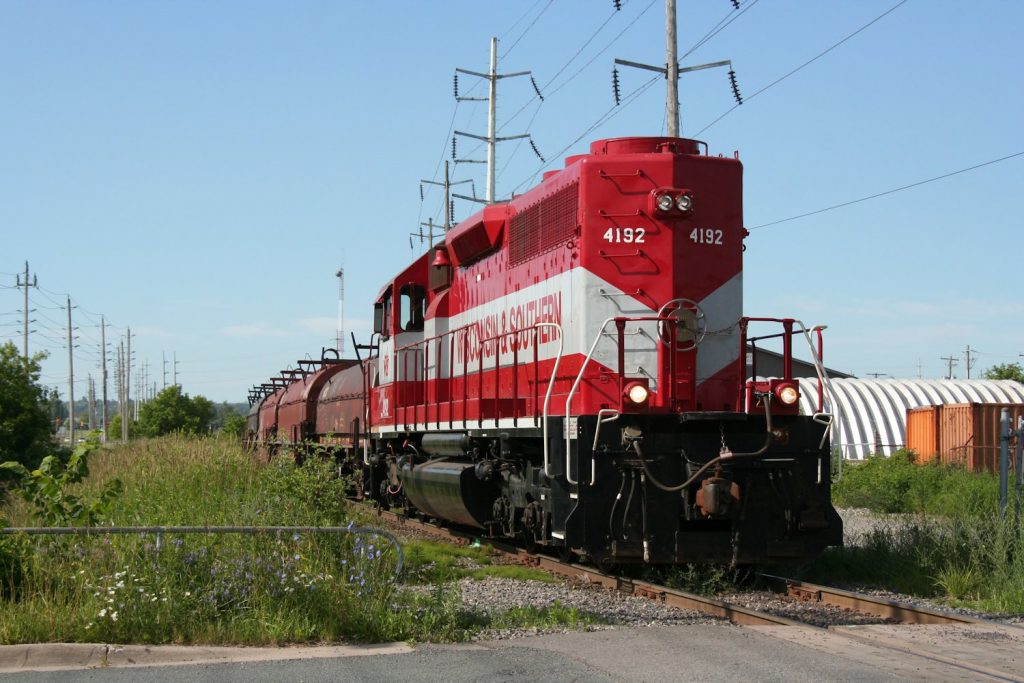 Today is the official first day of operations for Watco's new "Agawa Canyon Railroad".
The last CN train L572 to leave Hawk Junction departed in the evening of January 30 for Hearst. While CN will still be operating between Hearst and Oba, how that will be operated appears to be in a state of flux still, with those details to be confirmed and ironed out.
No local word on whether ACR trains have begun operating north of Sault Ste. Marie yet, but various news reports over the last few weeks have indicated the new company will employ 27 people and operate between Sault Ste. Marie and Oba with eight locomotives – six SD40-2s and two GP40-3s.
Back in at the end of June 2021, 4 SD40-2s were moved to Steelton yard:
WAMX 4181 SD40-2 (Wisconsin & Southern paint)
WAMX 4182 SD40-2 (Wisconsin & Southern)
WAMX 4191 SD40M-2 (Wisconsin & Southern)
WAMX 4192 SD40M-2 (Wisconsin & Southern)
Not much word on the remaining four units so far, but WAMX GP40 4051 (Watco standard black & yellow paint) was spotted in the yard in Sault Ste. Marie, Michigan just today per a facebook post from a northern Michigan railfan group. (Presumably this will be for the ACR, but could also be for Watco's new Grand Elk Railroad operation between Trout Lake and Munising, MI.)
The new railway is also intended to take over operation of the Agawa Canyon Tour Train, so presumably the passenger cars and engines associated with that train would be included in the sale of the railway.
Watco has a page up on their site now highlighting their new Canadian railway:
https://www.watco.com/service/agawa-canyon-railroad-acr/
The new name and logo of the railway pay nice homage to the history of the Algoma Central, bringing back the black bear, and keeping the ACR initials* and also highlighting the brand of the Agawa Canyon tour train.
* It looks like the new reporting marks for the railway may actually be "ACR" (vs. AC for the original railway, which reporting mark is still active under CN and used on a number of log cars).
Not much is known yet about what operations under Watco will look like, hopefully we will find out more in the coming days.
The press releases just dropped this morning. CN has entered an agreement to sell the Algoma Central and various other ex-Wisconsin Central lines in Wisconsin and northern Michigan to Watco.
CN and Watco Reach Agreement on Sale of Rail Lines in Northern Ontario, Wisconsin, and Michigan
Interestingly, the announcement specifically references only "approximately 250 miles" from Sault Ste. Marie to Oba – the last section from Oba to Hearst is apparently not included. It's being said that CN will continue to own and operate Oba to Hearst, presumably to hold on to ONR interchange traffic from Hearst.
Watco will take over freight traffic on the rest of the line (what little there is north of the Sault) and the release specifically mentions they will also be running the Agawa Canyon Tour Train, and has a Memorandum of Understanding (MOU) with the local Missinaibee Cree regarding potential partnerships (i.e. potential reintroduction of passenger services with the "Bear Train").
(If you haven't heard of Watco before, they own and operate a number of shortlines in the US; mostly small obscure ones, with probably their most notable (and also somewhat relevant) property being the Wisconsin Southern (WSOR).)
No further details are available at this time, although the particularist in me is curious to see how certain things shape out.
In particular, I'd be curious to see what the map of ex-WC lines included in Wisconsin and Michigan looks like, and how Watco may organize everything into one or more railroads, and what names they'll operate under. With Watco already owning WSOR, I could see some system integration and expansion happening there on connecting lines, and/or the creation of one or more new shortlines.
Presumably Watco would the new owner of the Algoma Central name, whether they would use the old AC reporting mark or have to acquire a new one is less clear right now – CN owns that mark, although they could easily transfer it. The question then revolves around existing equipment with AC marks – the passenger equipment for the tour train would almost certainly be included in the sale, and CN still owns around 150 or so pulpwood flatcars with AC reporting marks. Would this equipment get sold, or would CN have to renumber it to remove the AC mark?
I'm even more curious what name the US portions operate under, as Wisconsin Central is even more complicated with CN rostering quite a large amount of cars with WC reporting marks and lettering, as well as many leased cars leased via the WC subsidiary on paper. This makes the prospect of transferring WC name and reporting marks more complicated, so a resurrection of the Wisconsin Central under that name is probably less likely.
It'll definitely be interesting to see what new or old names the new entity or entities operate under, and if we start seeing "new" (including new-old secondhand) rolling stock in the near future marked for these railroads.
Regardless, it appears a new chapter is now set to begin in the ACR's history.
Edit: Watco posted this map of acquired lines today on their facebook page: