In my previous post, I cut away and replaced the ends on an ExactRail 65′ Hawker-Siddeley CP gondola to backdate the model to an older National Steel Car version of a similar car. After a couple more evenings of work, the car now has its new corner ladders installed.
The last bit of major surgery on the car body was to carve away the top chord over the last panel on the right hand side of the car, as the NSC cars have a notch here for taller ladders. Comparing prototype photos of the NSC and H-S (which the stock model represents) versions, the NSC car has a 5-rung ladder with closer spacing compared to a 4-rung ladder on the H-S car. With the top chord cut away, the area was filed smooth and the new notched bit formed out of a scale 2″x6″ top piece and an angled bit cut and filed from a piece of 6″x6″. This little assembly was then cemented in place, and the cracks and seams filled in with Bondo body putty. (At this time the seams between the new end and the sides of the car body were also touched up with body putty.)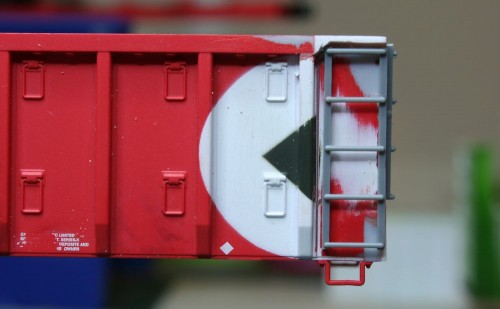 After the putty set up overnight, everything was filed and wet-sanded smooth. Then the ladders could be installed.
The ladders are cut to length from Tichy 8-rung boxcar ladders, and the rung spacing works out perfectly. Note the sides have a 5-rung ladder, and the ends have a shorter 4-rung ladder. The rungs of the side and end ladders align which each other. Note also that on the H-S car, the ladders are mounted below the heavy top chord, but on the NSC car that the modified model is intended to represent the top rung of the ladder is in front of the shallow top chord on the end, and located within a notch in the heavy side top chord.
Also unlike the later H-S car, which has ladders at every corner of the car, the opposite corners on the NSC car just have a pair of grab irons instead of full ladders. The next step will involve drilling and installed these, and a few other minor details, and then I'll be able to tackle the underframe modifications.