Another reader-submitted lumber wrap comes from Taylor Main, this one representing Temrex, a local mill in Nouvelle, Québec, in the Gaspé peninsula. Below is a photo of Taylor's load, and his graphics can be found at the bottom of this post.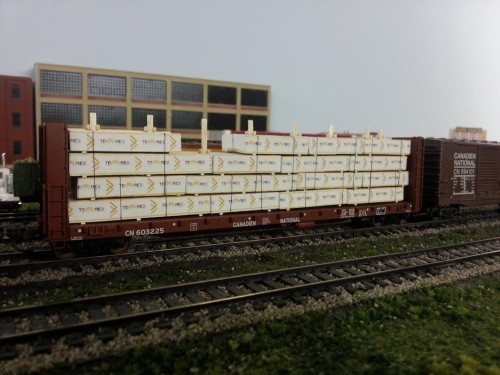 A company background indicates that from 1987-2002 the mill was owned by Tembec. In 2002, Tembec entered into a partnership with a subsidiary of Société générale de financement du Québec (SGF) Rexfor creating a joint venture under the name Produits forestiers Temrex. In 2009, SGF bought out Tembec's interest in the mill and in 2011 merged with Investissement Québec which became Temrex's sole owner.
This logo then would date from approximately 2009 or 2011 forward.
During the 2002-2009 period, according to Taylor:
I can remember their logo was identical to the Tembec one except it read Temrex in the same blue font and they would have started using the new orange and yellow logo in either 2009 or 2011.
Anyway, without further ado, here's the printable files: