Here's another AC 40′ box I finished some weathering on last night.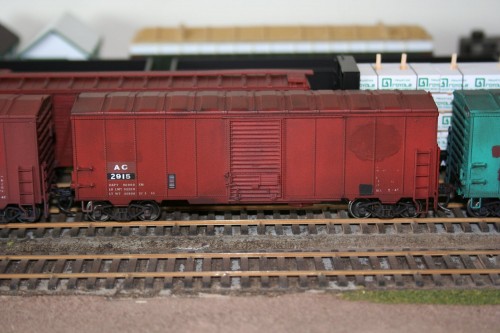 Like the others earlier this week, this was a TrueLine Trains Ontario Northland boxcar with some custom painting (the large patches over the logo were done by hand to try to simulate how the logos were painted over with a paint roller, and smaller patches over the reporting mark and number masked and airbrushed) and then weathered with a combination of pan pastels and a bit of grime airbrushed along the lower edge of the car and on the car ends.
Interestingly, Ted Ellis has an early 1990s photo of this car on his site where it looks like the number on the car end actually reads 2907. So it appears that this car has changed identities along the way. It looks like it may have been acquired from the Ontario Northland as AC 2907, possibly renumbered into a 10000 series work number and then reassigned back to the general pool and renumbered 2915, possibly replacing a different car that was the original AC 2915. (Dale Wilson sent me an older photo of 2915 that shows a completely different pattern of paint patching, and it's the same side as Ted's photo, so it's clearly not the same car.) I reproduced this confusion on my model as well. Like Ted Ellis's photo, the numbers on the ends of my car read 2907, but on the sides on a prominent black patch it's no. 2915.