I've had the opportunity to put a little more work into my section house build, and it's starting to get a lot closer to finished.
Across the front of the structure is a covered porch which extends the full width of the building. According to the standard drawings, the porch extends five and a half feet forward from the structure. To start the porch roof, I built an open framework using scale 4×4 strip for the porch roof. This was a very delicate piece to work with, but holds together fairly strongly once fully assembled with the sheet material for the roof's surface cemented to the rafters.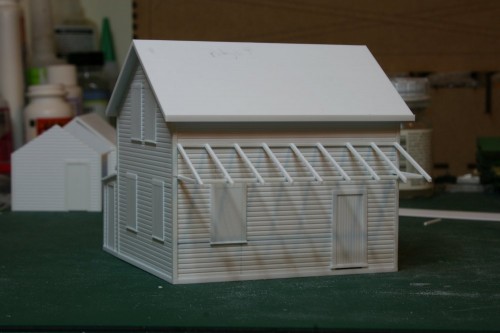 After this was all set up, I proceeded to add the fascia trim to all of the roof edges of the structure.
I also built the porch with a sheet of .020″ thick scribed Evergreen styrene sheet material and some .060x.060″ strip framing. Then, to complete the model down to the ground and also hold everything together more rigidly, I added the vertical board cladding all around the bottom supports of the structure. (Some more recent photos at this location show some of this replaced with lattice, but I have a couple of older photos that I've saved and archived in my reference folder where this is vertical siding all the way around, so I went with this approach.)
You'll also notice I've added the chimneys for the stoves that heat the structure. To mount the main chimney at the peak of the roof, I filed a notch into the roof itself so that the chimney could be cemented down on a flat surface rather than trying some sort of painful attempt to cut a peaked bevel into the base of the molded plastic chimney which I never would have pulled off cleanly.
The kitchen chimney however had the based filed off at an angle to bevel it to the slope of the roof.