Sat down again to this project for a while this evening.
I managed to file down the back of the skirting on the "A" end of the car and glue the side back into the end to repair the earlier damage. The floor piece is now able to manuever past the skirting and set into the body. (It's just dry-fit for now.)
I admit I'm not a total expert to everything that's going on under passenger cars, and there's a lot of variation from car to car. Also I don't have any really nice close-up detail photos of the bottoms of these two cars. Based on the reference photos I do have, I tried to replicate the general outline of what's under there using the Train Station Products passenger car detail set, which includes a variety of tanks and boxes and other details.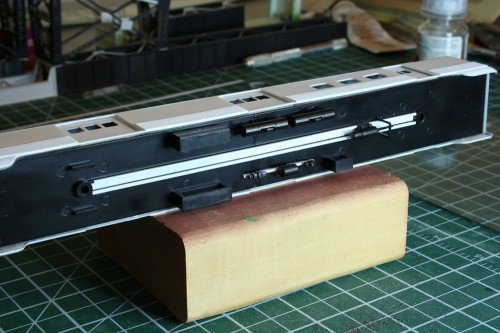 It's not the most super-detailed underframe, but starting to at least represent the profile of the real thing. I plan on adding at least some piping to represent the air brakes and electrical connections underneath. It's not going to be 100% accurate, but at least it should have the general impression of the thing.