Earlier this week I received a package in the mail with a collection of new-old stock Atlas tank car models from the very early 2000s that I managed to scare up on eBay. Among other things, included were a few of these ACFX chlorine service tank cars with the orange band that I've been looking for for a while, as it's really something that places a setting as "post-1980 Canadian railway".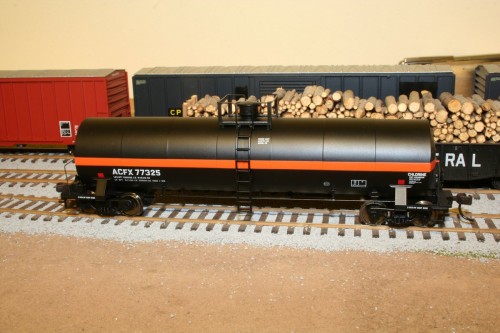 The car is in a generic ACF lease scheme but that orange band tells a story – a specifically Canadian and 'eighties one. During the 1980s, there was a short-lived Canadian government regulation requiring pressurized tank cars suitable for carrying hazardous compressed gases (both flammable and toxic inhalation hazards) to be painted with a bright orange horizontal band around the middle of the car as a very visible marker to first responder crews in the event of an incident. Non-pressurized cars did not receive these markings.
Although I can't find a particular written source at hand, the common telling is that this regulation was one of the measures instituted in the aftermath of the infamous 1979 Mississauga wreck. Several factors however led to the eventual dropping of this requirement after a few years: a lack of universal adoption (as this was not a requirement in the United States, and it takes a number of years to apply the new lettering standards to an entire fleet of existing cars) and the eventual realization that when the paint burned off in a fire the visual cue wasn't all that useful…
So the orange stripe was dropped, but even today if you're lucky you can still come across older tank cars built or repainted in the 1980s that haven't been repainted since and still show the stripe, although 30 years of repaints and retirements have seriously thinned their ranks.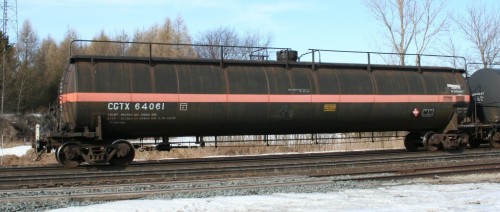 I photographed the CGTX car above in a CN train at Copetown, Ontario in March of 2007 and the Procor car below was photographed just outside Sarnia in October 2014. Even 10-15 years ago in the early 2000s you could see the orange stripes a fair bit more often still on CGTX, CITX/DCTX and PROX cars and while fewer and farther between now, there are still survivors out there today that make for a splash of interest in a passing train.