I've been cycling through a few different projects on the workbench lately, including updating a few older projects. One of which is this set of old bunk cars rebuilt from 36′ wooden boxcars from the turn of the century. I started on the first pair last year, building up the bodies, adding basic styrene floors and also adding a third modernized car to the collection. I never finished detailing the underframes though and the project rotated to the side as other projects like Wawa station took the forefront this winter.
As I work through various smaller projects, I decided it was time to finish detailing the brake system on the underframes and move these projects a bit closer to completion. The main underframe is of course scratchbuilt from a floor of .040″ styrene sheet and the bolsters, main sill and braces built up from various sizes of styrene strip. I also scratchbuilt the coupler pockets right into the frame with a styrene strip box and a piece of .125″ O.D. tube for the mounting point, securely welded in place with styrene cement and tapped for a 2-56 mounting screw.
(I ended up locating the mounting point a bit far back, not accounting properly for the full thickness of the end sill on the body, but a long-shank Kadee coupler compensated for that, and having the mounting point a bit farther from the edge of the floor sheet is probably more stable.)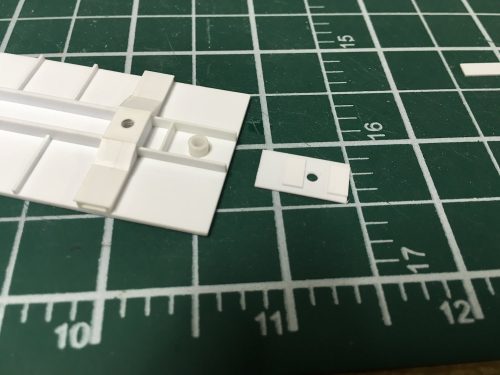 The truck bolsters are also built up from various pieces of strip and sheet, with a solid block formed from a stack of styrene pieces drilled and tapped for a 2-56 to mount the truck.
Brake details were added using a Tichy K brake detail set and brass wire for the rodding. It's not a "contest-level" brake rigging system, but it gives approximately the right impression and shows an appropriate level of rigging detail for a track-level side view.