Coming up in less than two weeks is the annual Railway Prototype Modelers Meet at Copetown, ON on Saturday February 22, 2020.
This year I'll be presenting one of the clinics on how I design and build my model lumber loads. (I haven't done a clinic before, so this should be interesting if not slightly terrifying!)
Other clinic presentations during the day will include:
Model and layout photography (Hunter Hughson)
Modeling TH&B GRS signals (Ron Tuff)
Tuning brass steam engines (Steve Bratina)
And another huge component of this type of event is the model display room, where there will be tables of models on display, brought in by the attendees. These can be finished or in-progress models, and usually display a wide range of subjects. Being able to see the models and discuss them with the modeler is great for inspiration and ideas, and you can learn a lot on different subjects and techniques.
For a taste of what this kind of show is like, see my posting from a few years ago from the first Copetown RPM meet:
Event Details:
February 22, 2020 8:30 AM – 3:30 PM
Copetown and District Community Centre
1950 Governor's Road, Copetown ON (just east of Highway 52)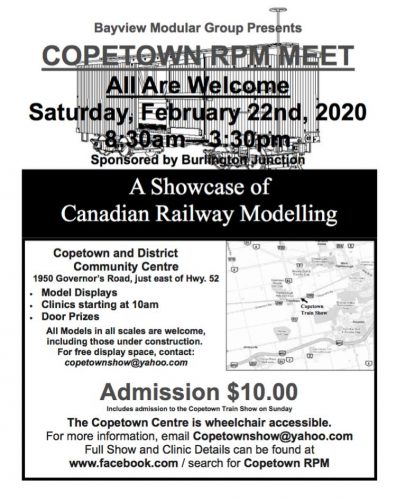 More information and contact can also be found on their facebook page.
If you have a chance to take in the meet, say hello! And don't forget to bring along models for display – it doesn't have to be finished either. The model displays and conversation are a big part of this type of meet.
Looking forward to the talent that will surely be on display on this day.