CGTX 71506 is the first addition to my (hopeful) fleet of tank cars for sulphuric acid service. Sulphuric acid is a common industrial chemical and a by-product of ore smelting operations. I've posted prototype photos in previous "Freight Car Friday" themed posts of acid cars running over the former ACR, likely from the operations at Timmins, ON or Rouyn-Noranda, QC via the Ontario Northland Railway through Hearst.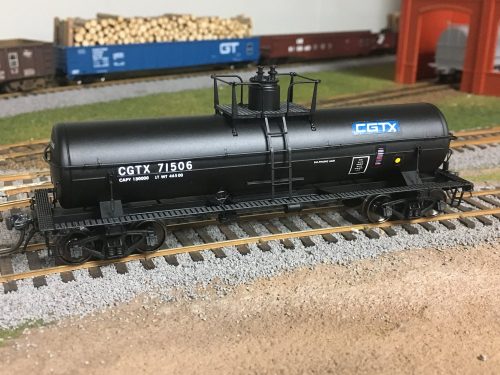 This model is a Tangent Scale Models car which was purchased as an undecorated/lettered but assembled and painted (black) model. The model represents a General American Transportation 8000 gallon car for acid service built in the late 1940s, but is very similar (identical in size and overall profile with only minor detail differences that you'd only notice if doing a direct side by side comparison of the model and prototype photo) to several older CGTX cars as well, so I was able to use it as a nice stand in. I'm unsure of the exact original build date of the CGTX cars but they would be from the same period – late 1940s-early 1950s and with railroad cars having about a 40-year lifespan, it's plausible to be running out its last miles in the mid 1980s.
I didn't actually change any details but just lettered the car following a late 1970s prototype photo with an old Herald King CGTX tank car decal set, with some additional detail lettering and COTS, ACI and U-1 decals to bring it up to a 1980s appearance from various Microscale sheets. With a little bit of in-service weathering, this car's appearance will be completed and it will be ready to haul loads of acid from the smelters to industrial users in the central/mid-west USA.