In the late 1960s-early 1970s Newaygo Forest Products had not yet established the lumber & chip mill at Mead to process logs, but had already been established since at least the 1950s with significant pulpwood loading spurs at Mosher (mile 217.3 & 218.0) and large cutting areas centered around the Mead area with spurs at mile 264.4 (Hale), 275.3 (Mead – where the mill would be built in 1974), and 281.9 (Coppell). During the 1950s up to the early 1970s this raw pulpwood would have flowed south; once the mill was built in the mid-1970s it seems most Newaygo pulpwood was sent to Mead to be chipped, and the woodchips were then shipped south to Wisconsin.
Empty cars would often be stored at nearby sidings at Horsey (273.1) and Coppell (280.9), which is exactly what we see with the message forms below.
These scans are of simple message forms that could have been delivered to train crews along with train orders, but to convey information that is less operationally critical or not covered by the formal forms of train orders.
These messages were all delivered to train no. 5 on successive days from April 24-26, 1970, and there's a lot of special references to handling empties and pulpwood loads related to Newaygo's spurs at Mosher, Mead and Coppell.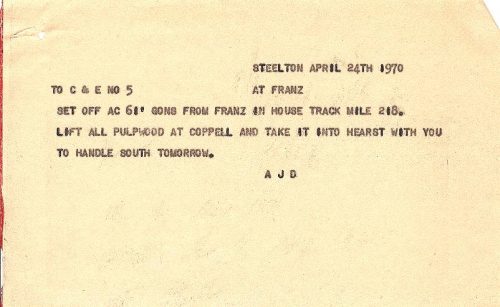 I believe the railroad term for some of these set-outs of empty cars in the house tracks/sidings at Mosher, Horsey and Coppell would be "constructively placed" – maintaining a ready supply of empty cars nearby for loading at the logging company's spurs.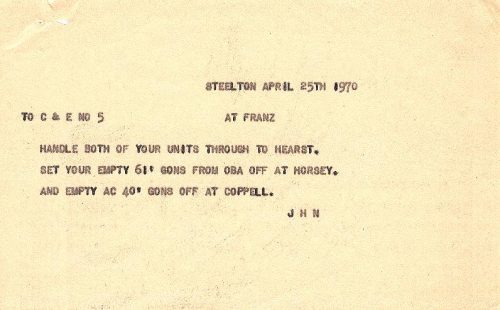 61′ gons referred to these messages would of course be the 1001-1400 series bulkhead gondolas built in the mid 1960s. 40′ gons referred to in the second message would have to be cars from the 4601-4804 series (re)built by the ACR's shops in 1947-48 and still in service in the early 1970s.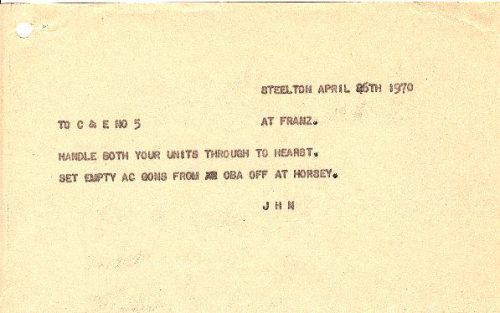 The specific references in the last two messages to handling both units (locomotive) through to Hearst are interesting; perhaps it was not uncommon to set off the trailing unit at Oba once all the interchange traffic was dropped off, if there were only minimal traffic left for Mead and Hearst? (Note also that CN freights only operated into Hearst 3 days a week according to the timetable – a frequency Ontario Northland maintains today.)