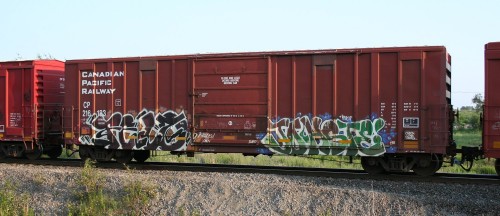 A pair of modern examples of Canadian Pacific boxcars in wood pulp service at Sault Ste. Marie on July 12, 2015, arriving back in Canada from Michigan to head back to CP via the interchange at Franz.
The top car was built new for CP in 1998 by Greenbrier's Trenton Works in Trenton, NS. The bottom car's history is a little more obscure. An early 1970s design from Pullman-Standard, the car's original owner before coming to CP is unknown. It would have been repainted and renumbered into its current identity in 2001 (and probably rebuilt to raise the roof and add an additional 6 inches to the interior height of the car at the same time).
The flat plates on the sides of both cars are protective covers for vents in the carbody. These vents are typical on modern cars in wood pulp service to allow moisture in the product to escape.