Enjoying a weekend at home by myself to get back into a few projects. One project that received a fair bit of attention today was finishing off the paint, lettering and weathering on a few of the Algoma Central 40′ boxcars I've had in progress for a while. Three cars are now basically complete, with three more in various stages of lettering (included the 9′ door rebuild which will become AC 2917. It's now on the workbench in green and yellow and half lettered. A little ways to go on that one yet.) When all six are complete, I'll have four 2900 series general service (but still non-interchange) boxcars and two 10000 series work supply/tool cars.
Here's a few roster shots of the three finished cars. They're all TrueLine Trains Ontario Northland NSC 40′ boxcars with custom paint patches and lettering. Weathering is a combination of airbrush and pan pastels.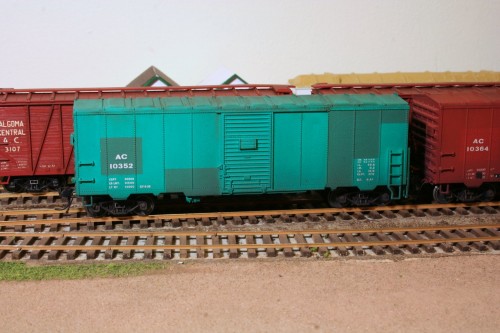 AC 10352, tool/supply car. The prototype car also has turbine style roof vents and a step below the door which will have to be added. The step won't be a problem, but I'm not sure how to solve the ventilator detail yet.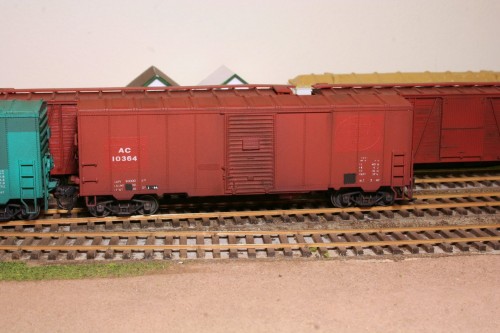 AC 10364, tool/supply car. Like 10352, it just needs the addition of roof vents (although a different sort) and a stirrup step under the door to finish off.
The photo loses some of the detail and character of the weathering, and this car actually ended up a fair bit dirtier than the prototype photos of this specific car that I was working from, but it's not atypical of other cars in the series, and I actually like the final look, so I think I can live with that.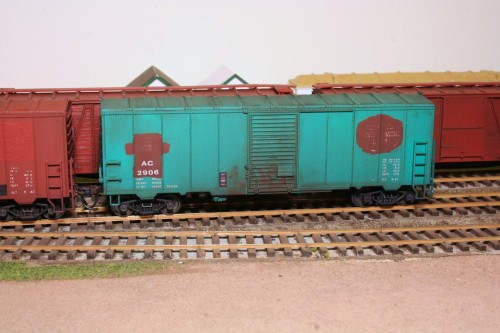 AC 2906, general service boxcar. I sanded the paint patch a little to let some of the original "Ontario's Development Road" logo show through a bit.
Like the other two cars this car received a general grunge with the airbrush and streaking and detail work with pan pastels. I also tried to get a bit of rust splotching going on in the door using a little bit of acrylic paint and pastels. The weathering isn't quite to the level of some other things I've seen online (some of which will blow your mind) but it's serviceable and I'm still learning and getting the hang of it.
---
(This is post #200 published to this blog!)