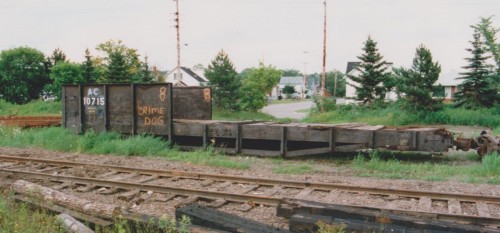 This interesting car is a former gondola from the series AC 4804-4850, (re)built in 1948 from older 40′ flatcar underframes.
Equipment register information indicates that these unique cars had a 40'10" inside length and 4'0″ inside height, and some lasted in active service into the early 1970s.
The open side above the dropping reinforced sill really cuts a unique profile on these cars, and would certainly be an interesting addition to a layout set anytime between 1947 and 1970, and as proved by this 1956 Jim Parker photo in Toronto, these cars definitely travelled across country, so almost any Canadian modeller could make an excuse for wanting to scratchbuild one.
AC 10715 bears a work service number, and for some reason has had about two thirds of the sides cut away, turning most of the car back into a flat car. I'm not sure why this was cut back the way that it was or how the railway was using this car. Shown here in Sault Ste. Marie off its trucks, this car is clearly about to be scrapped.
Photographed by Blair Smith in the early 1990s.