A lot of the rail traffic handled in the Sault Ste. Marie area has always been steel products from the Algoma Steel (now Essar Steel Algoma) mill. With the decline in forestry products from northern Ontario and the closure of the St. Marys Paper mill in Sault Ste. Marie (previously served by the former ACR), the Essar traffic is truly in the majority.
Essar produces many types of steel products including plate, pipe, beams and of course thin sheet steel (which is shipped in large coils). These CIGX marked cars represent a large proportion of the cars currently carrying steel coils eastbound over the Huron Central and Canadian Pacific.
These particular cars are leased (presumably by either CP or Essar Steel Algoma) from CIT Group, and these number series appear to have materialized in 2012-2013. These are all second-hand cars from a few different sources.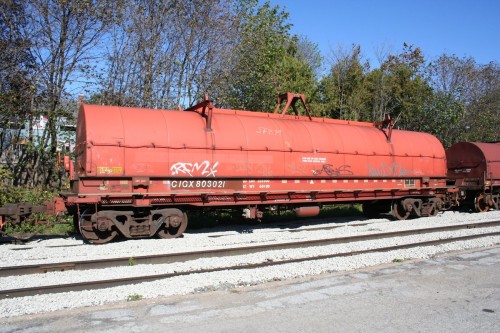 Our first example, CIGX 803021 was actually originally built in 1999 by Thrall Car as part of series CP 346300-346499. It was re-marked CIGX in late 2012 or early 2013.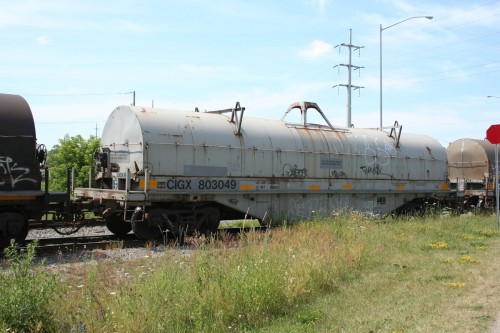 CIGX 803049 was built by National Steel Car in 1999 or 2000, and is likely ex-TR. TR translates to Tomahawk Railway, but this is likely one of those "marks of convenience" actually used by one of the large leasing companies like CIT, First Union or GE for cars leased to railroads as TR is one of those reporting marks that's disproportionately common for a 6-mile long shortline railroad. I'm not entirely sure which company actually owns TR marked cars though.
I used to see these cars in their original markings running on CP here in southern Ontario fairly regularly in the early 2000s; it's possible these were leased to CP back then as well, and the lease conditions or ownership has changed.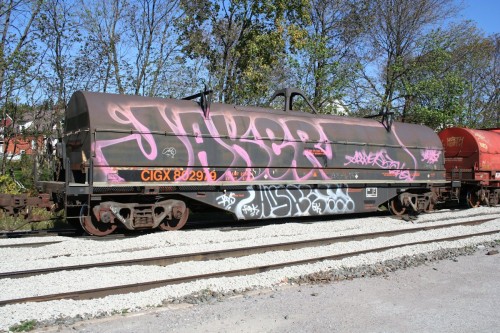 CIGX 802979 is drawn from another series of former TR cars, also built by National Steel Car around 1999-2000 and remarked to CIGX in 2013.
A fair bit of this coil traffic ends up at a transload/distribution operation alongside CP's former Toronto, Hamilton & Buffalo Abderdeen Yard in Hamilton, ON.