Earlier this week I took the chance to take another look at an older project on the shelf. I've already documented one CP woodchip boxcar build on this blog (see Part 1, Part 2 here); both of these projects were originally started quite some time ago.
My second woodchip car project represents an earlier rebuild, converted in the late 1960s for service in Maine and Atlantic Canada and rebuilt with side extensions. As they were rebuilt for Atlantic service, all of the early cars were Pullman-Standard boxcars lettered for CP's International of Maine Division, which was an early approach under customs regulations for assigning certain groups of American-built cars to international or US domestic service. At first, these rebuilt cars kept their original car numbers, with notes made in equipment registers identifying the modified cars.
This photo of CP 269941, courtesy of Jim Parker, was taken in 1972 in Brownville, Maine, and shows the car in it's original context, still with it's original number and in Atlantic Region service.
By the end of the 1970s, many of these cars were randomly renumbered into the 31175-31374 series, at the same time as CP was beginning to convert more randomly selected old boxcars to woodchip cars through the early 1980s by the simple expedient of cutting away the old roof. Later cars however did not receive the extensions to the sides.
I built the side extension on one car quite some time ago, and then the car ended up on the side burner waiting for doors. Earlier this week I hauled out a second car that I had prepared for side extensions at the same time and finally built the side extension on that car, and then started the doors on both cars.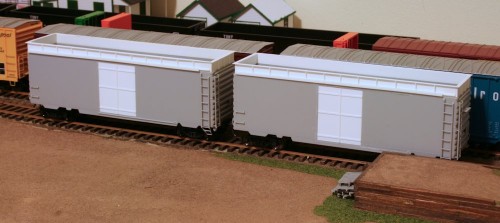 Here's my two cars in their current state posing on my little switching layout.
I need to obtain a few sizes of wire or styrene rod in order to finish the hinge and door locking bar details, so the cars will unfortunately have to be set aside again for a little bit until I can acquire some needed materials, but hopefully I'll be able to do that soon, and then finish up the doors and get this pair into the paint shop.
Like my previous CP woodchip box, this pair will eventually end up in service at the club layout. As far as I can tell, in reality these cars primarily ran between sawmills in White River or Chapleau to the Domtar pulp mill at Red Rock, on the north shore of Lake Superior, but we've used some modeller's license to run these through Sudbury to other local paper mills. I'm not sure if these cars actually did that, photos of freight equipment in 1970s is harder to come by, particularly in remoter areas of northern Ontario, but there is definite proof of pulpwood travelling around in the late 1960s and 1970s in CP gondolas, and some evidence of woodchips as well, so there's a certain plausibility to it, and these two extended height cars should mix in nicely with the half-dozen other cars we have in service.