Taking advantage of the long weekend at home to work on a few projects on the bench.
First up is completing some basic weathering on this Canadian Pacific woodchip boxcar: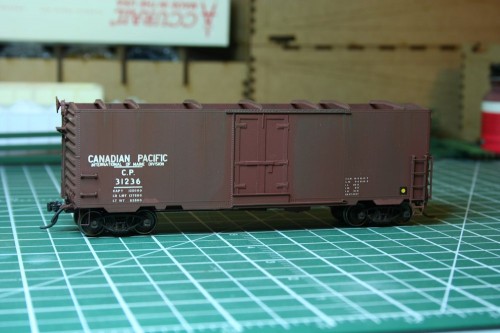 This car was built from an Intermountain 40′ PS-1 boxcar kit, with scratchbuilt chip doors, custom painted and lettered mostly with CDS transfers, with some Microscale sets to fill in some of the detail lettering and the U-1 inspection dot. Weathering was done with artist's pan pastels.
This car will probably wind up in service over at the club layout; woodchips were shipped from Dubreuilville on the ACR to Terrace Bay on the Canadian Pacific using cars supplied by CP, but the best information I have suggests that this particular service was mainly in 52′-60′ gondolas, not boxcars, and it'll be a few years yet before I have anything running, so this can join another 5 or 6 similar cars in a chip service pool on the club layout.