This evening I stopped at the post office to pick up several packages – packages containing the new Rapido Trains 52′ Canadian gondolas. (I won't tell you how many exactly I picked up, because this was partly a pooled group order of cars for the WRMRC layout, so better than half of the cars will end up belonging to others, but let's just say I acquired "more than one" 6-pack of AC cars (plus a few CPs) for my own purposes.)
These models are based on a common design of 52'6″ gondola with riveted construction and drop ends that were built by Eastern Car Company during the 1940s-50s for most of the major Canadian railways. Similar cars were built by Canadian Car & Foundry and National Steel Car up into the early 1960s, with generally similar features, but some detail differences.

The prototype Algoma Central cars were built in 1959-62 in two batches by National Steel Car. (AC 601-800 and 801-875. Another almost identical batch was built in 1962 as AC 900-924 with covers for coil steel service.) They actually differ from the model in two ways. One, the AC cars have a different style of structural ribs on the sides. While the model features the distinctive Z shaped ribs fashioned from simple angle stock, the later AC cars had a stamped rib with a more of a hat profile (if you cross-sectioned the rib). The AC cars were also a higher capacity car with a 4′ interior height instead of the 3'5″ height of the model. However, the number and spacing of the side ribs is still consistent on all of these Canadian cars, so that still makes these cars a better stand in than any model of an American prototype. (The older Proto2000 gondola, based on a design built by Greenville Steel Car and Bethlehem Steel Corp., was previously the best stand in, but has a different number of side ribs and panels, which alters the layout of the Algoma Central billboard lettering on the side of the car.)
The models are well packaged, but even so exercise care when removing the cars from the packaging and check for any minor damage in shipping. There's been some reports of the delicate ribs damaged in shipping (I haven't seen much of this yet, but I've only removed a couple of cars from their packaging so far) and I had a few ends knocked free and rattling around inside the box (the drop ends are just press fit in place, so this is no big deal).
Here's a few photos of a sample AC and CP (Action Red scheme) car to see some of the detail on these new models:
The relief of the Z shaped ribs is a distinctive feature of this model. The individual ribs are actually separate pieces to achive this effect. So one will have to take some care when picking up these cars not to crush any delicate details.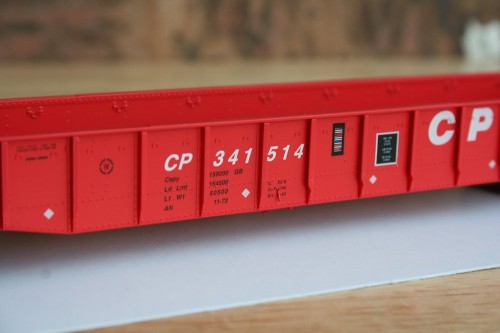 These CP red cars feature trucks with converted roller bearing journals, a nice touch.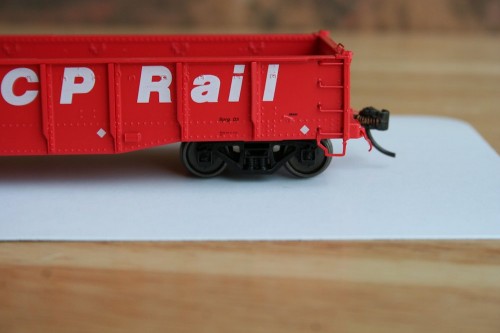 I weighed one car at 4.1oz, just slightly under the NMRA "recommended" weight for a 7″ car of 4.5oz (1oz + .5oz/inch), but then almost every factory car is slightly under this recommendation, and consistency is one of the most important things. The Rapido car actually weighed out exactly identical to one of the Proto2000 gondolas I had nearby.
And lastly, a couple of final shots of the two cars on my in progress switching layout. The cars both appeared to track and roll quite well, although admittedly I don't have much track to roll them around on. The real test will be when we try dragging a set of these around in a train at the club layout.