Over the last couple of weeks I've been making slow but relatively steady progress on my pair of steam generator cars, with both bodies assembled and window and door trim installed. I've also managed to make the side and end doors and start adding the window sash detail. (The doors are completed on both cars, and the window sashes are complete on one of the two.)
The doors are a simple construction of .010″ styrene sheet cut and filed to fit the opening with the raised framing laminated on using .010x.040″ and .010x.080″ strip. The window openings in the doors were cut out after the trim work was applied and filed flush with the trim. Once complete the doors were cemented in place in the opening. The end doors were similar but without any of the strip trim work.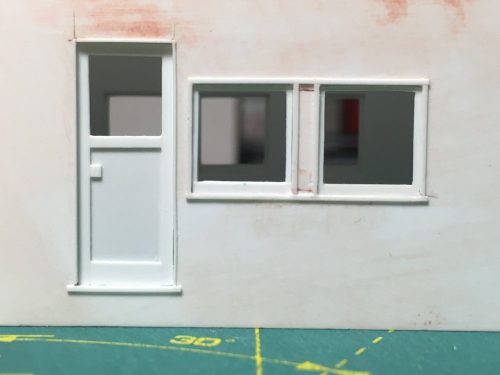 The last step to finish the side windows is adding the window sashes inside the frames. I initially began to attempt framing this in with individual 2×4 and 2×2 strip, but after managing to get the bottom piece of the sash in all the windows, the process actually convinced me to pop them back out and take a similar tack to the doors and laminate the sash frame using .010″x.020″ and .010″x.040″ strip on a .010″ sheet backing and the VERY CAREFULLY cut and file out the opening. The .020″ thin sash frame is extremely fragile at that point, but once installed the effort is worth it and I found the process to be going much better than trying to build up the sash frames inside the opening from individual strips.
I have a few more windows to do on the second car yet before I move on to the next detailing stage in construction.