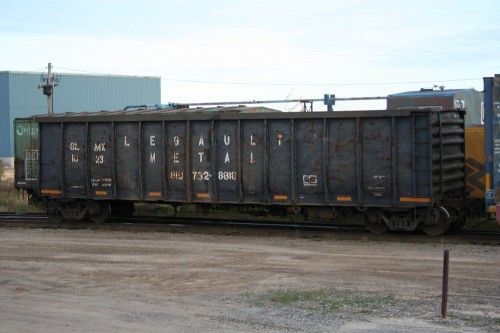 This gondola, seen on October 1, 2013 being switched out in the Ontario Northland yard at Hearst, bears markings indicating its ownership by Legault Metal of Val D'Or, Quebec.
Legault is a local scrap and metal products dealer serving the area around Val D'Or and Rouyn-Noranda, Quebec. They apparently own their own small fleet of about 30 assorted secondhand gondolas for steel scrap. On my northern Ontario trips in 2013, I saw several of these in various places on both the Ontario Northland and former Algoma Central railways. These appear to route over the ONR from Noranda to Englehart, then via Cochrane and Hearst to interchange to CN and travel down the former Algoma Central, likely delivering local scrap metal to Essar Steel in Sault Ste. Marie for recycling.
For more information on Legault Metal, see their website.