Earlier this weekend, John Longhurst published a post over on his M&M Sub Blog about some early scratchbuilt structures on his layout, including his first ever scratchbuild, a small industrial building, although he states how the structure has no place on his current layout, partly because it doesn't fit, and partly because like many first efforts it no longer holds up to his current standards.
John posted a link to the same post and started a discussion over on the Trains/Model Railroader forums inviting others to share examples of their first scratchbuilt structure efforts.
Here's mine.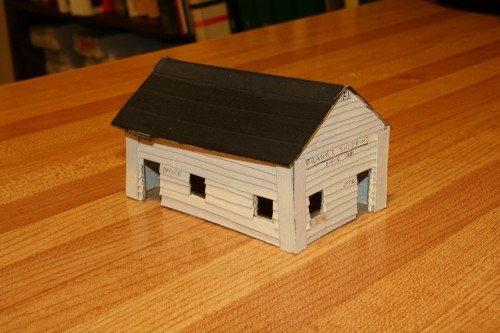 I built this small building out of cereal box cardboard when I was still in grade school, cutting strips of boxboard glued to a core of the same to simulate clapboard siding. The tarpaper/roll roofing is regular masking tape.
I'll never actually use this building on a layout again, as everything about it is of course well below any current standard I would set for myself, but I keep it around out of some sort of sentimental value as my first building that I made myself.