So circumstances this weekend allowed me to take the opportunity to hit a train show/sale today in Ancaster, Ontario. (On Saturday I travelled to a friend's place in Kitchener for a murder mystery dinner party; it was a lot of fun and the murder was succesfuly caught! I stayed over and then left for Ancaster in the morning to catch a bit of the show and also visit some family in the area.
I'd never been to this particular show before. It was primarily a flea market/sale show; with lots of secondhand tables plus several established hobby shops and dealers. It's not the largest show in the area, but it did completely fill the exhibition hall at the Ancaster fairgrounds. There was only one operating layout that I saw; a small modular N scale layout which was unfortunately placed at the end of the outer hallway instead of the main hall. I believe this particular event has always been billed as more of a flea market type show than others (although all train shows always have the various vendors, both dealers and the private individuals sellings surplus items) so I guess I wasn't too surprised or disappointed by the lack of layouts, but the layouts are always a fun thing to look at at most shows, and really the best way to attract new people.
I did personally manage to get a couple of good bargains at the show this afternoon. The first was pretty much immediately after I passed the admission table. This pair of CP newsprint boxcars was $20 for the pair. They weren't boxed, but the bodies were undamaged and in good shape and the little plastic baggies with the extra parts for the ladders and door bars for both cars were in there. Since you can easily pay more than that for just one (indeed I saw similar cars at other booths in the main hall for >$20 a piece), I couldn't resist, even though I probably already have more of these newsprint boxcars than I need so far. (These cars could have been seen over the ACR in paper/woodpulp service from the CP interchange at Franz down to Sault Ste Marie.) I can always bring some extras down to the club for service (we have a huge paper service fleet there) and I have some nefarious ideas kicking around in the back of my mind for some severe rebuild projects that would use these as donors…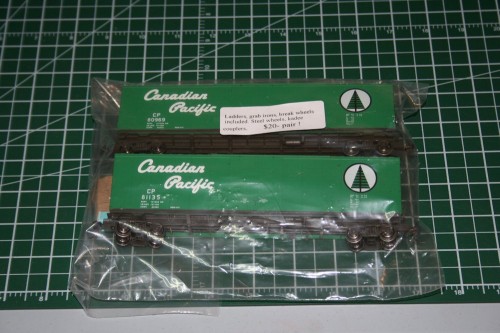 I got this Walthers diesel crane from another secondhand table. With a few modifications, this is a good candidate to be turned into AC 10216. Actually it might end up taking some major modifications to the body, but this particular prototype crane and the model are both built by American Crane and there are some common parts and features. The AC crane appears to be a heavier model with a larger body, but the operator's cab, and the lower frame and a few other pieces are the same, so this will be a good starting point for an interesting project. Stay tuned for more on that sometime in the future, I think I can promise that!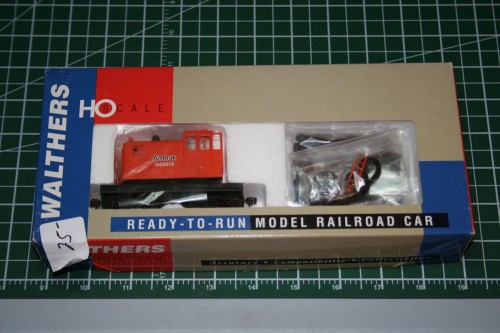 The rest of these cars I got at more or less regular price from a couple of the regular dealers.
This SOO Line car is a model made by Fox Valley Models of a car with some features that were unique to SOO Line; these cars were built by SOO in their own shops at Fond du Lac, Wisconsin. This model has taken a little bit of flak in some prototype modeling circles for the side ribs being too shallow, but overall I like the look of it, and it captures a signature car of the SOO Line railroad. I recently acquired a collection of old slides taken on the ACR (basically all unlabeled and undated, but certain indicators suggest the date to be around 1978-79); while varying in image quality, they include a sequence of images from a cab ride on a freight from the Sault to Hawk, and a caboose ride from Hawk to Michipicoten. In one slide you can just make out a pair of SOO boxcars farther back near the rear of the train. While I have no evidence as to what they would be carrying, a reasonable supposition is that they represent some minor bridge traffic to either the CP or CN interchange at Franz or Oba. Whatever the case, I do have photographic proof that this is an appropriate car to be seen operating over the ACR in my time frame.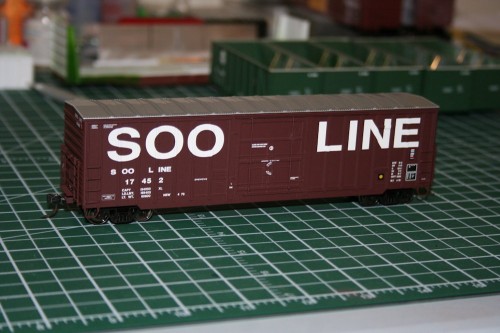 The CN reefer below I picked up primarily for occasional express or less-than-carload (LCL) at the ramp at Hearst. However, I've also seen a slide in Helmut Ostermann's collection taken at Hawk Junction that clearly shows one of these cars coupled behind the engines switching at Hawk. Unfortunately I have no other information on what the CN reefer would be doing travelling over the ACR. Bridge traffic to northern Michigan? Possibly actually local express traffic for Hawk Junction or Wawa freight sheds, which still existed in those days, although I don't really know when they were last active.
The ACFX tank car is a car in Liquefied Petroleum Gas service – generally this translates to propane. There was a propane dealer in Hearst (served by CN) and one in Wawa (served of course by the ACR) that I can use this car for. The model has a 1985 service date stencilled on it, so it represents a fresh repaint in my targeted era. ACFX is an American lease mark, and pre-NAFTA it would probably be more appropriate to see more Procor and CGTX (Canadian General Transit) cars, but ACFX cars definitely did operate north of the border then as well, and this car is most definitely era appropriate, so I can make an excuse for including it.