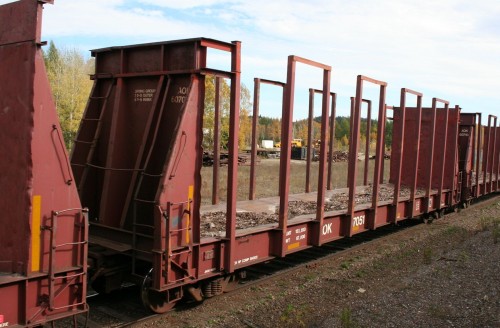 These two cars represent a series of pulpwood cars currently in service hauling logs from the former Algoma Central to mills in Michigan or Wisconsin. A close look at the car shows that these were rebuilt from older V-deck pulpwood cars with extended bulkheads and side stakes for handling larger logs.
The top photo was taken on September 30, 2013 at Hawk Junction, while the photo below is at Sault Ste. Marie on July 12, 2015. The above cars would have been set off at Langdon siding just south of Oba, where a significant loading operation was going on.
The AOK reporting mark officially belong to the Arkansas-Oklahoma Railroad, but in this case marks these cars as being leased to the railway from Greenbrier Leasing.