Just before I left on vacation a couple weeks ago I got a package of goodies from Union Station Products in the mail. A bunch of car side and core kits: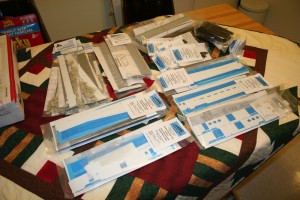 The core kits are made by Train Station Products, and the sides are either laser cut or CNC machined for specific prototype equipment. Since all of the AC passenger equipment is secondhand from various sources, there's a number of side kits that are appropriate for AC equipment.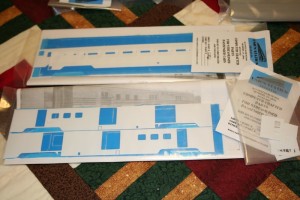 The top kit in this photo is a Central of Georgia coach (AC 440) and the bottom a DRGW Baggage/RPO (AC 300-301).
A few of the car kits acquired (and the AC cars they will represent) are:
2x #7603 – DRGW P-S RPO – AC 300-301
1x #2866 – CofG ACF Coach – AC 440
1x #9636-023 – NYC Budd Observation – AC Canyon View
2x #7423-R – SP Articulated Coach (Modernized) – AC 450-462
This should be an interesting series of projects when I get a chance to work on these!